I'd have to say that the Alcatraz Puzzle is a great representative of this category. It started life as a magic trick but it makes a great puzzle (so few magic tricks really do). U.S. Patent 4625968 - McDermott 1986

The Cage Rage looks similar but is much bigger and has a completely different mechanism. You are unlikely to solve it without help - it comes with video taped solution instructions. U.S. Patent 5944311 - Hartzell 1999

Jailbreak - by Siebenstein Spiele
Looks like a large Alcatraz, but it's different.

My Dad made me a Pyramid of his own design, containing sand in its mechanism!

From Davan's, a Lili (really nice wood, but impossibly difficult!)

This is "Bi-Polar" from Orb Factory

This brass Treasure Box is a Rocky Chiaro design from B&P. It has a very tricky mechanism, demanding multiple steps to open and close.

This brass cannon from B&P is an affordable version of a design that appeared in Hoffmann's Puzzles Old and New.

Coin Safe
A nice brass rendition of a puzzle described in Hoffmann - sold as a magic trick.

Brass Jax designed by Rocky Chiaro and issued by Bits & Pieces (you must try to open it without unscrewing the four rounded end-caps)

My friend Dr. Ralph Marlett has his own metal lathe and he made me this trick-opening cylinder I call "Elegance" because of its inscription.

The Citadel
Not really hidden-mechanism, but certainly a plethora of confusing doohickies to manipulate in an effort to free the red ball.

The Yin-Yang Ball.
Open it. Not difficult.
Could be filed under Boxes, or Magnetic.

These designs are by Jean Claude Constantin.

Remove the "Yen Coin" (just a washer in this version).

You've Been Framed
B and P

Bolted Closed

pyramid in prison

U324 - Adjust the levers and remove the central triangular prism.

Bernhard Schweitzer sent me a care package containing various tanglements and other puzzles, including several secret-opening puzzles by Jean Claude Constantin. Thanks, Bernhard!


The Prison Block from BandP

This is Great Escape from Mag-Nif. It's plastic but the same as the Prison Block.

This is a Dowel-and-Peg puzzle from Tom Lensch

The Globe Ball from Hanayama. Designed by Vesa Timonen. This puzzle first appeared in 2008 at IPP 27 held in Prague, where it was called the "Tangerine" and won a First Prize in the Design Competition.
(A gift from Brett - thanks!)

Three Bar Cube - B & P

Stuck Bolt - B & P

Fish Torpedo

Mysterious Ball

Gelenk
Separate the two pieces.
by Claus Fohlmeister

Here are some secret-opening puzzles by Frank Chambers made from Corian material.
(Frank Chambers passed away in July of 2007.)

The Captive Coin - a copy of a design in Hoffmann. Presented by Edward Hordern at IPP14.

Wheel and Axle - Frank Chambers

Get the Ball Out - Frank Chambers


Ring Box - Frank Chambers

Match Box - made by Frank Chambers
Designed and introduced by Peter Hajek at IPP27


Block and Key - Rossetti - IPP22

Cigar - Gillen - IPP23

Lost Luggage
Bits and Pieces 2005

Scroll Puzzle - Doug Engel

Pyr-Eye-Mid
and the Pyramid Puzzle issued by Bits & Pieces

Egg (NYPP 2007)

Thomas Beutner's Tangled Dovetail - IPP26

This is Hexaspiration, presented by Edward Hordern at IPP13. Remove the rod from the hexagonal cylinder.

An Isis Puzzle by Sonicwarp. Titanium and Silver Edition (from the old Sharper Image stock).
Cheater? Shortcut

Straight Forward - designed and made by Brian Young, Mr. Puzzle Australia. Get the ball from Start to Finish, past three barriers. Made from Queensland Blackbean wood.

The Ring Box, designed by Gary Foshee. Purchased at IPP 29 in SF.

Eurofalle 03 - designed by Jürgen Reiche
exchanged at IPP35 by Allan Stein

The AlCyl, designed by Hirokazu Iwasawa (Iwahiro) and made by Seiko Kogyo Co. Purchased from Iwahiro at IPP 29 in SF.

The Karst Phenomenon
Designed by Karst Nauta and presented at the IPP28 2008 Exchange in Prague. Made by Brian Young @ Mr Puzzle Australia, from Queensland Silver Ash. Size: 60mm3.
Separate the two halves of the cube.
Mr. Puzzle provides this hint: "Karst is a type of terrain characterised by sinkholes, caves and the like. Karst processes tend to be secretive and imperceptible because most development occurs underground over long periods of time."

The Aluminum Cylinder Box by Will Strijbos, courtesy of John Devost (John's photo of closed box).

Washer Cylinder, number 12, from William Strijbos
A secret-opening container.
Shown in comparison with Wil's Aluminum Cylinder Box, and Iwahiro's AlCyl.
Reviewed by Oli and Kevin.

BIC #1 (Balls in Cylinder) designed by Jerry Loo

Here is William's Cross, designed by Wil Strijbos. Two aluminum pieces with a clever hidden locking mechanism. Courtesy of John Devost.

Sweta Cross - designed by William Strijbos
A two-piece secret-opening cross, sitting in a wooden base to
give the impression of the Swiss flag.

TriTalon designed by Iwahiro, purchased from Wil Strijbos

Caged Coin, designed and made by Bill Sheckels, exchanged by Norton Starr at IPP32

I couldn't be at IPP33 in Japan, but Allard Walker sent me one of his exchange puzzles, Conjuring Conundrum, designed by Allard and Louis Coolen. Thanks a million, Allard!

Case in Point - a secret opening box, designed and made by Perry McDaniel, exchanged at IPP38 by Norman Sandfield

Slapshot, designed and exchanged at IPP32 by Allan Stein, made by PuzzleMaster

Monumental Challenge, designed, made, and exchanged at IPP32 by Andy Manvell

The Genie in the Bottle designed and made by my puzzle-friend from Turkey, Erhan Cubukcuoglu. Thanks, Erhan!
The goal is to remove the cap from the bottle, thereby freeing it from the frame.
Genie was entered in the 2012 IPP Design Competition.
My friend Brett had showed me a puzzle he has had since childhood which was an advertising premium. Since then I have been on the lookout for one and I finally found it. The puzzle features "sand" inside a transparent plastic apex, and four moving sliders in the base. The objective is to discover the slider settings which allow all the sand to be drained into the base, revealing a totemic icon on the pyramidal apex.

Capitol Politics, designed, made, and exchanged by Keith Winegar at IPP32
You must discover a way to get both red and both blue pegs all inserted into the block.

China Expo puzzle
Find a way to disassemble it. Advertised as a "Kongming Lock" (i.e. Burr) puzzle, but it requires a special move so it isn't really a straight interlocking puzzle in my opinion.




A

Little Millionaire Savings Bank

secret opening puzzle.

Advertised in the December 1924 issue of Boys' Life magazine, on page 70.

Appears in the toy bank collector's reference guide

The Penny Bank Book

by Andy and Susan Moore as No. 920. Said to have been made by the Vertago Manufacturing Company of Boston in 1924. 2 7/8" tall and 1 7/8" diameter. A nickel-plated steel cylinder in two nesting halves which can rotate relative to each other. The top half, containing the coin slot, is marked "LITTLE MILLIONAIRE SAVINGS BANK PATS. PEND. MADE IN U.S.A." The bottom of the cylinder is stamped with a "2." I have read of other instances stamped with 1 or 8. I have searched for but could not find a relevant patent. I wonder if one was ever issued, or if someone can find the denied application? I have seen some copies of this having additional markings, serving as advertising for some institution, often a bank. Mine has no such markings. There is a bar aligned under the slot, riding in side-wall grooves , which will cover the slot when the bank is turned upside down. Even when the bank is rightside up, the bar prevents one from peering inside the cylinder to see the mechanism. Of course its primary function is probably to prevent one from shaking coins out. There are two etched bands (for grip?) midway down the side of the top half, and likewise on the bottom half. Below the bands on the top half (and likewise above the bands on the bottom half) there are two diametrically opposed small rivets through the sides of the cylinder. Midway between the rivets in the top half, and aligned with the left end of the coin slot, is a downward pointing arrow.

The bottom half has around its top edge a series of 20 equi-spaced bars labeled with the letters A through U excluding Q.

Thanks to an email from Dale Cookson I was able to open my bank! Dale has a Little Millionaire as well and suggested the combination clockwise to 'L' then counterclockwise to 'P' - and mine opened with this same combination!

I was also contacted by another owner, John Barbour, who had been unable to open his copy. He found my page here and tried L,P to no avail - but he speculated that there might be a mechanical reason (based on aligning internal rivets) for the second letter in the combination to be four spaces from the first. So starting with 'A' he tried clockwise to that letter, then counterclockwise to four letters past the first letter. John discovered that he could open his bank with the combination D,H! Perhaps John's formula will help others out there with missing combinations. John's LMSB is stamped "18" on the bottom. Thanks for the info, John!

Below are two photos of mine open (looking in at the bottom on the left and the top on the right), and a couple of photos I found on the internet showing the two halves of the Little Millionaire separated.

When opened, mine does not come apart and I am not sure it is even meant to.

My example looks considerably different on the bottom inside from the internet examples.




Within these internet versions one can see three internal triangularly-spaced rivets (except in the first photo, where I believe one is missing due to damage) on a flange along the bottom of the top half, along with a horizontal tab near one. The bottom half contains an outer flange with three half-notches for those rivets, and an inner rotating disk with the three corresponding half-notches and a raised tab. I believe the two bottom notched flanges must align to form three full circular holes through which the top halve's rivets must pass to open the bank. Rotation of the halves engages the top tab with the bottom tab and moves the bottom internal disk. Since even though I have opened my copy from what I can see mine does not look like these internally, this is speculation.

I found a vintage metal Liberty Thrift Bank Puzzle - how does it open?


From the Liberty Thrift Bank Co. of Rochester NY.
In great shape, with no rust.
I have seen instances of this marked "Patent Pending"
but mine says "PATD APRIL 26 1921."
After some searching, I found the relevant patent -
it is 1376036 awarded to inventor James Pearsall in 1921 and filed in 1918.
Jerry Slocum's collection at the Lilly Library
contains a copy of the Liberty Thrift Bank.
The notes say it was made in 1892 by Baumgardner & Co.
for the 1893 Columbian Exposition,
but not sold there - the Columbus Egg by Baumgardner was sold instead.
I am surprised by this, given the almost 30 year discrepancy in dates.


Chess Pieces - a set of trick-opening puzzles adapted by Hanayama from designs by Marcel Gillen.
This gold-plated limited edition produced especially to commemorate IPP35 in Ottawa, Canada, purchased from PuzzleMaster.

Brass Monkey 2 - a fresh and difficult (and hefty) take on the Diagonal Burr with cylindrical pieces,
machined from brass and obtained from the Etsy shop Two Brass Monkeys of Ali Morris and Steve Nicholls.
I finally did get it apart, after I remembered who I was dealing with.

Brass Monkey 3 - Steve Nicholls and Ali Morris
Third in a series - look carefully at the piece ends -
the number is indicated by the dot plus number of engraved rings.

Pyrigan 360 - designed by John Partridge at Pyrigan - (blog post about the 360).
See also the Pyrigan Etsy shop.
Machined from T6061 Aluminum, plated with Nickel, with a turquoise marble trapped inside.

Cop Out 1, 2, and 3 - designed and 3D printed by Alan Lunsford.
In each puzzle, navigate the "copper" from behind its little window
out of the box via a slot in the side of the box, using the sliders and tilting.
Purchased on an auction site at a fairly inflated price from another
collector, because I am impatient.
See a review at Ken Irvine's blog Zen Puzzler.
A video review by Puzzling Time, on YouTube.

Sapphire - in the Priceless Puzzles Series by Coremods.
[83]
---
Puzzles in the Sacred Myths and Legends series, by Family Games.
| | | | | | |
| --- | --- | --- | --- | --- | --- |
| DaVinci's Secret | The Equation | The Legend of the King | The Enigmatic Temple | The Pillars of Atlantis | Carta Blanca |
---
These are some old-fashioned designs...

Takitapart
U.S. Patent 2181116 - Boyle 1939

Pick-a-Peg
U.S. Patent 2469364 - Boyle 1949

Tri-N-Do-It
U.S. Patent 2207778 - Boyle 1940
The three classic wooden vintage secret-opening puzzles Takitapart, Pick-A-Peg, and Tri-'N'-Do-It, all invented by John D. Boyle,
were issued in this boxed set, called the Masterpiece Puzzles.

Penny Safe

Marble Safe
The Penny Safe and the Marble Safe are two instances of the same puzzle which has also appeared as a trick-opening match safe (vesta).

At IPP 29 in SF, I bought a new version of the Penny Safe with a different opening trick, designed by Mike Snyder.
---
This is an 1893 White City Puzzle Bank: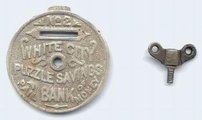 It is not so much a hidden-mechanism, as it is a "missing mechanism" puzzle -
one is supposed to present it without the wing-nut, which slips onto the central spindle and allows it to be unscrewed.
Without the wing-nut, you're screwed.
The "No. 1 White City Puzzle Savings Bank A Barrel of Money" was issued by Nicol & Co. of Chicago, and is a souvenir of the 1893 Columbian Exposition.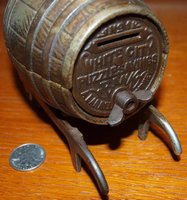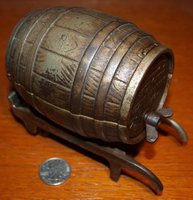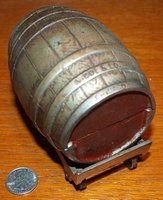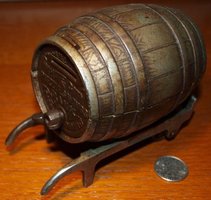 The bottom of mine seems to have been painted red. This is in fact not the only time I have seen one of these vintage White City Barrel No. 1 puzzles with traces of red paint on it (for example, on the handtruck). Does anyone know if these were actually red when originally issued?
---
Here is a family of related puzzles...

The Duallock I got in Japan is one of my favorites and is in my opinion the prime exemplar of this group.

The Philos cross is identical to the Duallock (but of lower quality)

The Wood Coin Prison started life as a magic trick. It's made in India and it is pretty low quality. It doesn't even hold a quarter!

The Yot is a successful magic trick-turned puzzle.

I also have a Yot II - same basic mechanism and appearance as the original Yot, but with an additional constraint that necessitates a thicker body. The latter shot above shows a comparison.

Binary Arts' Chewdini is a mass-market example

Match Box

Money Miser

Mental Case - Mag-Nif
Very nice.

The Vault

The Top Box

The Transogram Cube
---
Bits and Pieces has provided many trick-opening puzzles, including several Marcel Gillen designs in Aluminum, as well as classics out of Hoffmann like the Beehive and the Barrel.

equential Discovery (SD) is a relatively new category, containing puzzles that might previously have been classified as puzzle boxes, or secret-opening/hidden mechanism designs. Although mechanical puzzles that qualify for this designation have been made before, only recently has the puzzle community begun to commonly refer to this category (the traditional Dalgety and Slocum systems do not have a specific group for SD), and the term has become useful in discussions among puzzle consumers and makers or resellers.
Check out the SD category at PuzzleMaster.ca, at Mr. Puzzle Australia, on Etsy, and at PuzzleParadise.
Sequential Discovery puzzles generally require one to disassemble, open, or free something from within them (e.g. a coin) and contain hidden internal locking mechanisms - just as in those previously mentioned classes. However, in SD puzzles, the experience has been crafted to present to the solver a sort of journey where discovering a move or step releases a kind of tool from the body of the puzzle, that can then be used to perform a subsequent step that had not been previously possible without the tool. Sometimes tools can be combined into a new configuration that proves useful in yet another step. I think the key distinguishing feature is that one is not just sliding parts, pushing buttons, twisting dials, or tilting gravity pins, but rather physically removing pieces from the body of the puzzle and then re-using them against the remainder of the puzzle in a way intended by the designer in order to advance.
In the broader puzzle world, Escape Rooms (and Escape Room in a Box type kits) are a logical extension of the Sequential Discovery theme.
Some puzzles qualify but only barely, in that they perhaps have a removable lid or panel loaded with a magnet than can then be applied somewhere else on the puzzle to release a magnetic lock - folks have referred to such designs as "Sequential Discovery Lite" puzzles. Typically these puzzles have only one (or very few) tools and/or steps.
Many Puzzle Locks - which have their own category - would qualify here, especially the venerable Dan-Lock. Some of the Sandfield Puzzles also qualify. Wil Strijbos (Lotus, First Box, Angel Box, Pachinko Box, Butterfly Box/Lock, Revenge Lock/Wanderer, Egg) and Gary Foshee have both produced several wonderful SD puzzles in metal. Junichi Yananose (at Pluredro) has produced several coveted SD puzzles in wood ( Sequential Discovery Burred Box - SDBB, Slammed Car, Sequential Discovery Board Burred Box - SDBBB, Ring Case, SDBB Master ). Michael Toulouzas (Puzzzlevision) is another master craftsman of fine wooden SD puzzles. Several creative makers offer SD puzzle boxes made from Lego. More designs are being 3D printed.
Some famous past examples designed and made by Brian Young (Mr. Puzzle Australia) (I only have or had those so noted) - links are to blog posts on their excellent website:
Here is my collection of Sequential Discovery puzzles:


Turtle Trip - by Gerard Hudson
Available from time to time at Gerard's online shop Bayou Puzzles.
A "sequential discovery" (secret-opening box/disassembly) puzzle,
with various implements to discover and use along the way.
A cool use of electronics, which may bother some mechanical puzzle purists.
I finally solved my example. I only needed one, OK maybe two, real hints, and it was lots of fun!

IPP22, 2002, Antwerp Belgium
Robert Sandfield's Dovetail Pepper Shaker and Norman Sandfield's Dovetail Salt Shaker. They only work as a set - tools from one are needed to disassemble the other.
My second Sandfield puzzle(s), obtained from Norman.

This is a DanLock I got from Dan Feldman.
In puzzle circles it's widely acknowledged to be the "Rolls Royce" of trick locks.

The Open Lock by Gary Foshee
The goal is to remove the hasp from the frame. A "sequential-discovery" puzzle where you have to find a series of tools, even though apparently everything is out in the open. I really like this one!

Titan's Treasure Puzzle Lock - from the Etsy shop LockPuzzle of Sashko Peshevski of Sweden.
A sequential-discovery puzzle - find the hidden marble.
I tore the key-head off the pamphlet before realizing it is not intended to be used in the solution
and should have remained affixed to the sheet. Oh, well.
The designer posted a YouTube video about the Titan's Treasure Puzzle Lock.
The lock has been reviewed by Allard on his blog. I did finally solve my Titan's Treasure lock, not without hints, pain, and anguish.

SEARious burr from Mr. Puzzle Australia


Brian Young's Gold Coast Parking Meter - IPP27


Houdini's Torture Cell designed by Brian Young, purchased from Brian at Mr. Puzzle Australia.


A Plugged Well, designed and made by Brian Young, exchanged by Matt Dawson at IPP32


Washington Monument, designed, made, and exchanged by Brian Young at IPP32


Big Ben - a secret-opening puzzle designed by John Moores,
Junichi Yananose, and Brian Young. Made by Brian Young (Mr. Puzzle Australia).
This was John Moores' generous exchange gift for IPP34.
Sadly, John passed away in January 2015.
Made from Papua New Guinean Rosewood, Western Australian Jarrah,
and Queensland Silver Ash, with some metal tools inside.


3 Wise Bolts - a secret-opening sequential discovery puzzle
designed and made by Brian Young at Mr. Puzzle Australia

Ages - designed and made by Brian Young at Mr. Puzzle Australia.
A difficult sequential discovery puzzle combined with a difficult burr. Yikes!

A group of sequential-discovery secret-opening free-the-coin puzzles by Rex Rossano Perez.
Including: Kusing 25 (red), Apolaki (yellow), Walang Galang (green), Rizal (blue), Barasoain (gray), and Aquinaldo (black).
Jerry Loo blogs about some of Rex's coin puzzles.

First Box designed by Wil Strijbos

The Lotus Puzzle designed by Wil Strijbos.

Free Me 5 - by Joe Turner
Secret opening / sequential discovery puzzle
Winner of a Jury Honorable Mention in the 2017 IPP Design Competition

Free Me 6 - Joe Turner
Entered in the 2018 Design Competition but no award.
Nonetheless, a very enjoyable secret opening / sequential discovery puzzle.

Free Me 8 - by Joe Turner
Comes with a warning that the small lizards are decorative only and don't move.
Well then, what does that imply about the larger lizards?

Sequential Discovery Board Burred Box (SDBBB) - Pluredro (sold out)
A nice, hefty, and well-crafted puzzle - I enjoyed solving it and it was not frustratingly difficult.

Ring Case - a sequential-discovery secret opening box by Junichi Yananose at Pluredro

Baffling Bolted Book - designed by Louis Coolen and Adin Townsend
exchanged by Allard Walker at IPP34
A gift from Allard - thanks very much!
This secret-opening sequential-discovery puzzle was a pleasure to play with!
I can be discouraged by and lose interest in secret-opening puzzles
when the mechanism seems just too arbitrarily difficult to me to fathom - I am easily bored by
the "randomly shake/whack/tilt/twist/prod/etc" methods too often required.
For some reason, though I can devote hours to the analysis of certain kinds of puzzles,
I find I have no patience for exhaustively worrying a secret box until something happens to work.
The Baffling Bolted Book, however, to me strikes just the right level of difficulty,
proffering potentially rewarding insights at each step.
The book employs metal hardware and some clever 3D-printed pieces.
And inside awaits a deceptive tray-packing/symmetric shape puzzle designed by Adin.

Where's My Hammer - an aptly-named puzzle box designed and hand-made by Dee Dixon of Idaho.
Check Dee's Etsy site DEDWoodCrafts.
Reviewed by Steven Canfield on his blog Boxes and Booze.
I enjoyed the WMH box - Dee's woodwork is of good quality and the materials are very nice. The box incorporates several well-hidden (though some might say a bit unfair) steps, and functions reliably - which is a very important criterion for me. Unlike many of the puzzle boxes you'll find on Etsy which rely on old uninspiring mechanisms, Dee's box has worthy tricks up its sleeve.

Blinded II - a puzzle box designed and made by Dee Dixon

Ansel - a secret opening puzzle "box" by Brandon Wolf at Puzzled Wolf.
Modeled loosely on the camera of the famous photographer Ansel Adams.
Based on seeing one of German Mr. Puzzle's videos, I ordered the Cluebox from the German site ID-Venture.


Rainbow Road - a Lego puzzle box designed by cheat3.
See a full assembly tutorial video.
Surprisingly, you can still have fun solving even after building the box yourself!
I purchased mine as a kit of pieces from Vonado but honestly I cannot recommend them -
the pieces are not true Lego, and because of this tolerances are poor and
some pieces don't function correctly without hand-modification of them and/or the build.
That said, they are much cheaper than Lego, and I did get the puzzle to function with some changes.
Also see Cheat3's Etsy shop.

Two Lego puzzle boxes, Mouse House and GROWL Box - designed and made by Andrew Parr
Purchased from Andrew's Etsy shop LegoNerdPuzzles.
Neither are too difficult, but both are pleasant - they are sturdy and function reliably.

Make Anything Mystery Puzzle Box - designed by Devin Montes,
made by and purchased on sale from the Etsy shop PrintsAndPlastics.
Reminds me of a camera.
Has conflicting reviews but I was pleasantly surprised.
Ran into a wall but after an A-Ha moment was able to solve fairly quickly.
Had to follow my own advice:

Observe and Reflect

.
Not overly difficult in the end, but employs some clever mechanics I had not encountered before.

Unsafe Deposit - a 3D-printed sequential discovery box,
designed and made by Alan Lunsford.

Pair O' Dice - designed and 3D-printed
by Tye Stahly at NothingYetDesigns on Etsy.
Several varieties of trick-opening Match Safe or Vesta are described in Hoffmann.

This trick vesta employs the Ne Plus Ultra mechanism described in Hoffmann. It is engraved with the phrase "How the Devil do you open it?" and the figure of a devil.

Perry's. Another Ne Plus Ultra.

This one opens on the end. This also has an engraving reading "How the Devil do you open it?"

This large vesta (or cigarette case) from Germany has a trick-opening drawer.

A trick vesta that will prick an unwary finger.

Another trick vesta that will prick the finger of the unwary. Different opening than the previous.

The Lighter (Feuerzeug)
A very clever take on an old principle.

Schraubenwuerful

Schluessel

The Propeller

007 Shaker

Gesicht
According to Jonas Bengtsson, according to Wil Strijbos, the objective of Gesicht is to move the ball from one eye to the other and back again.

Geburt

Eis

Auspuff
(I don't have this.)

Mastercard
(I don't have this.)

Wasserhahn

Stecker
(I don't have this.)

Gartenschlauch
(I don't have this.)

Cylinder
(I don't have this.)

R2D2
(Appears in my Dexterity section.)

Alles Roger
(Appears in my Dexterity section.)
[9]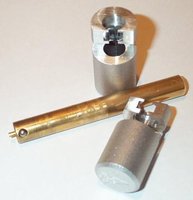 On 3/13/10, I attended an enjoyable puzzle get-together hosted by George Hart at his house. Thanks, George! We had a fun evening and a safe trip out and back, despite the horrendous weather, which brought down an incredible number of trees along many roadways. I took along several puzzles from my collection for folks to try, including the Eis by the mysterious R.D. - George's friend Glen Whitney, who is executive director of the Museum of Mathematics, solved it! George put it back together, whereupon it defeated all comers for the remainder of the evening. I did, however, manage to reproduce the feat at home - but it wasn't easy even after having seen it done! At right is a picture of the insides.
Puzzle collector Khuong Nguyen managed to acquire a complete set of Roger puzzles. Evidently there are two versions of the Schluessel.
Rocky Chiaro is perhaps the world's premier trick-bolt designer and craftsman.
I own one of each of his bolts so far: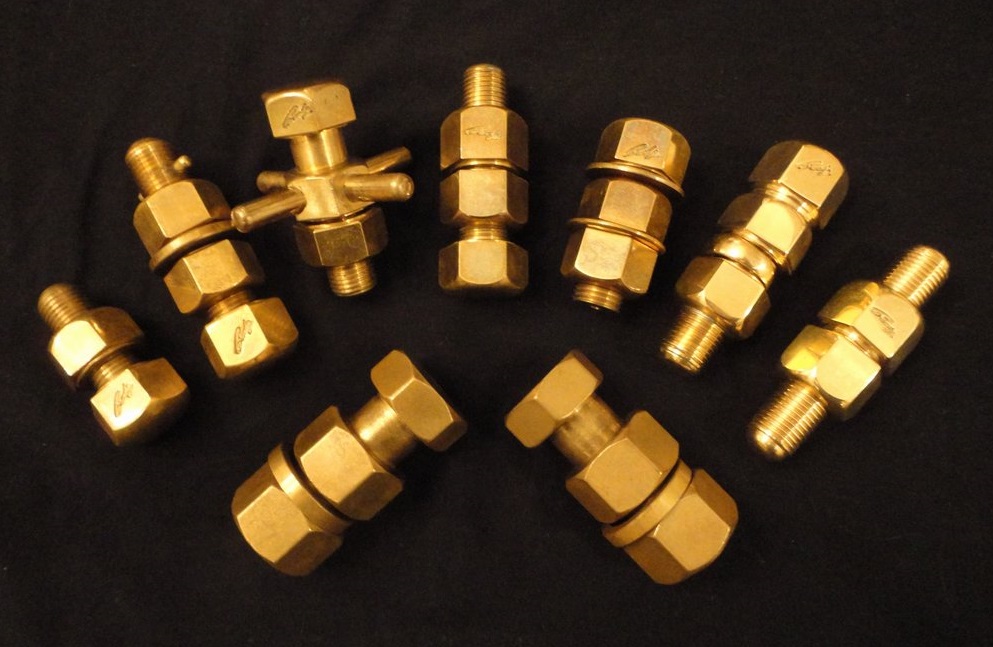 These are among my favorite puzzles. Shown are: One-L-Nut, One-Wa-Sure, Pin-N-Nut, Dub-L-Nut, Dub-L-Wa-Sure, Ring-N-Nut, the new Screw-E, and two copies of the Brass Bolt (equivalent to the Ring-N-Nut) from B&P. All of them are based on completely original and unusual mechanisms. The B and P Brass Bolt was the first one I got and it is a terrific value. The Screw-E is Rocky's latest, and I can't wait until Rocky thinks up yet another one! Here is a glimpse inside the wonderful Dub-L-Nut...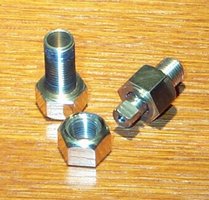 ---
such as the physicist Richard Feynman
, who consider normal combination locks and some padlocks to be puzzles in and of themselves. Locks with trick mechanisms usually present a more reasonable challenge and do not require lockpicking skills. Many are made in India and China.

This is a DanLock I got from Dan Feldman.
In puzzle circles it's widely acknowledged to be the "Rolls Royce" of trick locks.

The Lunatic Lock from B&P - nicely made in aluminum.
A maze of internal sliding pins.

4-step Chinese Puzzle Lock
from Puzzleboxesusa (defunct?)

B&P called this "Lockout" but the box says
Kishor Trick Lock. It's made in India.

Here is a hefty multi-step puzzle lock, from India. Purchased from Lee Valley and Veritas Tools.

Another Indian puzzle lock. Very simple trick - a theme amongst this type.

Trick Lock (or Cigar Cutter)
aka the Bashful Lock
"I will open behind your back"
See U.S. Patent 1136735 - Taylor 1915

The Sherlock

Lockout by Irwin
More of a game than a puzzle -
One person devises a "code"
and a second tries to solve it

Neat Lock - Hajek IPP23

Mikslok - Chambers IPP20

Eleganter Australia Antique Lock Puzzle
Made in China - package says Neko Mook No. 708 PET

This is an "Utterly Unique Puzzling Padlock" purchased from Frik-n-Frak's Curio Shack.

Heart Lock - B&P

Sparten Lock

Chaman Lock

plastic lock - McDonald's premium

two puzzle locks by Marcel Gillen

a Chinese combination lock

A trick lock engraved "MIOf[]"

a small "springy" lock

Diamond lock from India

Key-shaped Lock from India

Chronos Trick Locks #1 and #2
Purchased from Torito. #1 is the same mechanism as the Lunatic Lock. #2 is different.

Trick Locks #1, 2, 3, 4, and 5 (left to right)
from Puzzlemaster

Here is a series of Popplock trick locks made in Germany by Rainer Popp.
(NOTE: T1 was limited to 5 copies and is nearly impossible to solve without the manual. I don't have one.)
I have purchased T2 and T6 from Grand Illusions, T4 and T5 from Friedhelm von Knorre at IPP31 in Berlin, and T3 privately. I purchased T7 and T8 from PuzzleMaster.ca.

T2

T3

T4

T5

T6

T7

Many folks didn't think the T7 was puzzling enough, especially given its somewhat high price - but I think they missed the point.

The T7 is kind of a programmable Revomaze.

Granted, its default configuration makes opening it relatively easy, but it could be re-programmed to present a much more difficult

challenge - albeit for someone other than its owner.

T8


Constantin Wooden Lock
Schiebeschloss (Sliding Lock)

A lock requiring three keys to open. Similar to but smaller than the large trick lock I bought a while back from Lee Valley.

A vintage trick lock - one must first find a way to open a panel to reveal the hidden keyhole, then one must figure out the proper way to use the key. An interesting mechanism, distinct from the trick locks I already have.

Two Key Lock, designed by Vesa Timonen, made by Bits and Pieces, exchanged by Nancy Alliegro at IPP32

The Open Lock by Gary Foshee
The goal is to remove the hasp from the frame. A "sequential-discovery" puzzle where you have to find a series of tools, even though apparently everything is out in the open. I really like this one!

Padlock from the Pirate's Wallet Chest by Robert "Stickman" Yarger
Thanks, Rob!

A 9-Step, 2-Key Puzzle Lock.
A new replica of an old Indian lock.

Burgh Lock designed by Splinter Spierenburgh.

Large 2-Key Lock - India

TrickLock - 3D printed set including 2015 (IPP35), 2016, 2017, and 2018 versions.
Designed by Louis Coolen


Puzzle Lock - designed and made by Richard Hensel.
I bought one of Dick's first versions in June 2012 - the larger model with the protruding pin on the bottom.
More recently I obtained one of his refined versions - the smaller model with no pin.
The mechanisms are virtually the same.
(I traded away the first version with the protruding pin.)

Haleslock 1 - designed, made by,
and purchased from Shane Hales.

Hales Lock 2 - designed and made by Shane Hales

Hales Lock #3

Hales Lock #4

Haleslock 5 - Firestarter - Shane Hales

B-Lock by Boaz Feldman

B-Lock II - Boaz Feldman
May be available at his Etsy shop Puzzlocks

Funlock - from Boaz Feldman's Etsy shop Puzzlocks
A one-trick lock, and if you have DanLock,
you've seen this trick. Nice for beginners.

Revenge Lock / The Wanderer - (re-)designed by Wil Strijbos
Beautiful, hefty, and daunting!
Wil's response to Gary Foshee's Lunatic Lock.
Originally called the Revenge Lock, now re-designed to eliminate
a false solution, and renamed "The Wanderer."
According to Wil: No magnets, no banging, no force.

Hokey Cokey Lock - Ali Morris
Exchanged at IPP38 by Steve Nicholls

Titan's Treasure Puzzle Lock - from the Etsy shop LockPuzzle of Sashko Peshevski of Sweden.
A sequential-discovery puzzle - find the hidden marble.
I tore the key-head off the pamphlet before realizing it is not intended to be used in the solution
and should have remained affixed to the sheet. Oh, well.
The designer posted a YouTube video about the Titan's Treasure Puzzle Lock.
The lock has been reviewed by Allard on his blog. I did finally solve my Titan's Treasure lock, not without hints, pain, and anguish.

Lock'd In - IPP39 exchange puzzle from Bryan Turner

Her Key to the Treasure - LockPuzzle

Lock Out - by Andrew Coles.
Quite proud of having solved it on my own.
A very pleasing trick I had not seen before.
[67]
---
Here are some puzzle keys to go with the locks...

The Bathroom Key - B&P

Hoffmann Key and Ring
from Village Games, Camden Lock

E.Kur Key
This large puzzle key is a souvenir of the 1904 St. Louis World's Fair Exposition, celebrating the Louisiana Purchase. There is a dial on the end which must engage an internal slotted disk.

small silver linked keys

small black keys

Key & Ring - Shackman
Rocky Chiaro has produced a set of puzzle keys. Shown are: Hel-Sin-Key, Boston Key Party, Toe-Key-Yo, the new King-Key (I love the name :-),
and two copies of the Roc-Key from B&P.
[13]
Here are some miscellaneous trick dovetail puzzles - they are all basically the same as the Sandfield Joint.
| | | |
| --- | --- | --- |
| Danzig's Dilemma | I have seen this called a "Zwaluwstaart" which means "Swallow's Tail" in Dutch, referring to the shape of the dovetail joint (thanks to Rob for the info). | Deja Vu - Puzzlemaster |
[16]
Those I've found are highlighted like this.
IPP14 held in 1994 in Seattle, Washington

Ever since I got this Sandfield Joint puzzle years ago (from Puzzletts in Seattle, I think), I've wanted another Sandfield puzzle. In my opinion this is a classic, combining a trick dovetail joint with an internal hidden trick.
IPP15 in 1995 in Tokyo
Robert created the Dovetail and a Half
and Norman created the Corollary Dovetail.

IPP16, 1996, Luxembourg

Robert submitted the Dovetail Donut.
Norman submitted the Spider's Secret Box, which was licensed by Bits & Pieces. (It is not a dovetail puzzle.) I have the

Bits and Pieces version

.
IPP17 in 1997 in San Francisco CA

Robert created the Bolted Dovetail.
Norman created the Dove Tangle.
IPP18, 1998, Tokyo

Robert's Fat and Thin Triple Dovetail Norman created Pharaoh's Secret which I finally found at IPP29.
IPP19, 1999, Heathrow, England

Norman's L-Bow Dovetail (shown opened) Robert submitted the Cutaway (Double) Dovetail (also L shaped).

IPP20, 2000, Los Angeles CA

Robert's Dovetail Burr


(not to be confused with Frans de Vreugd's Dovetail Burr)

Norman's DoveTail Bar


IPP21, 2001, Tokyo - No new puzzles from either. IPP22, 2002, Antwerp Belgium

Robert's Dovetail Pepper Shaker, and Norman's Dovetail Salt Shaker. They only work as a set - tools from one are needed to disassemble the other.
My second Sandfield puzzle(s), obtained from Norman.
IPP23, 2003, Chicago

Norman's Dovetail Cherry Surprise Cake Robert submitted the Dovetail Jewel Box, which I found at IPP29.


The 2003 puzzles were the last to be crafted for the Sandfields by Perry McDaniel. However, Perry is still making fine wood puzzles. This is Perry's Marbled Walnut Sheet Cake box from 2006, purchased at IPP26 in Boston.
This is one of Robert Sandfield's IPP30 Locked Draw Puzzle Boxes, made by Kathleen Malcolmson. Here it is shown open, since that is the state it remains in until one solves it!

Here are two puzzle boxes I received from Robert Sandfield.
They were both designed by Perry McDaniel and both made by Kathleen Malcolmson.
The name of the first, the Unlocked Drawer, is apt - there is no lock - yet there is no obvious way to open the drawer!
It is made from from Lacewood, Prima Vera, and Mahogany.
This was Robert's exchange puzzle at IPP 27 in Australia. The second is the Banded Dovetail Puzzle.
It is made from from Alder, Prima Vera, and Mahogany.

Rebanded Dovetails, designed by Robert Sandfield and Kathleen Malcolmson, made by Kathleen Malcolmson, exchanged by Robert Sandfield at IPP32

Three Layer Double Dovetail - K. Malcolmson, R. Sandfield
[21]
Whether you refer to them as
Puzzle Boxes, Trick Boxes, or Secret Boxes, the idea is the same - a container with no obvious way to open the lid. Japanese craftsmen have a long history of producing secret opening boxes, requiring many steps to open, and finished in a characteristic style of woodwork. More recently, several other foreign and domestic artists have been producing new varieties of puzzle box.
---
---
---
Eric Fuller
is a puzzle collector and designer, as well as a skilled craftsman. He operates the
Cubic Dissection website
.
Each year the IPP is hosted by volunteers and it is a tradition to present a specially commissioned puzzle to the host(s) at the end of the event. I co-hosted 2015's IPP35 along with Brett Kuehner, and the executive committee secretly asked the talented artisans and puzzlists Stickman and Stickboy - Robert Yarger and Neil Hutchison - to create our host gift puzzles. The pair began an eight month collaboration with them sending ideas and parts back and forth across the country, culminating in the Tinker Puzzlebox.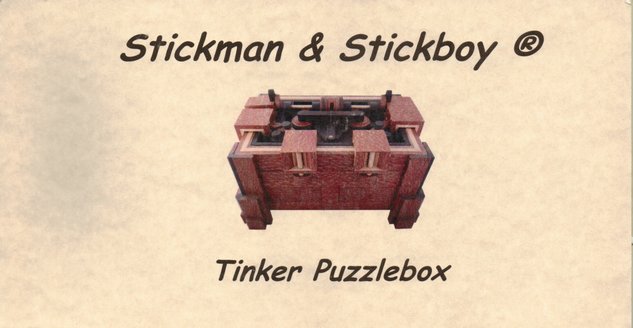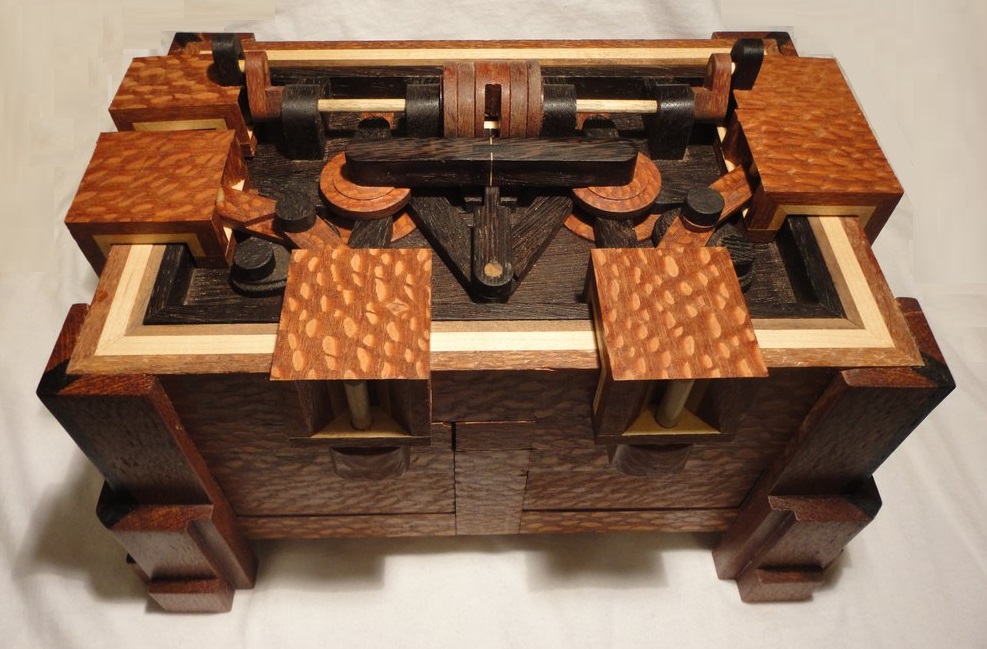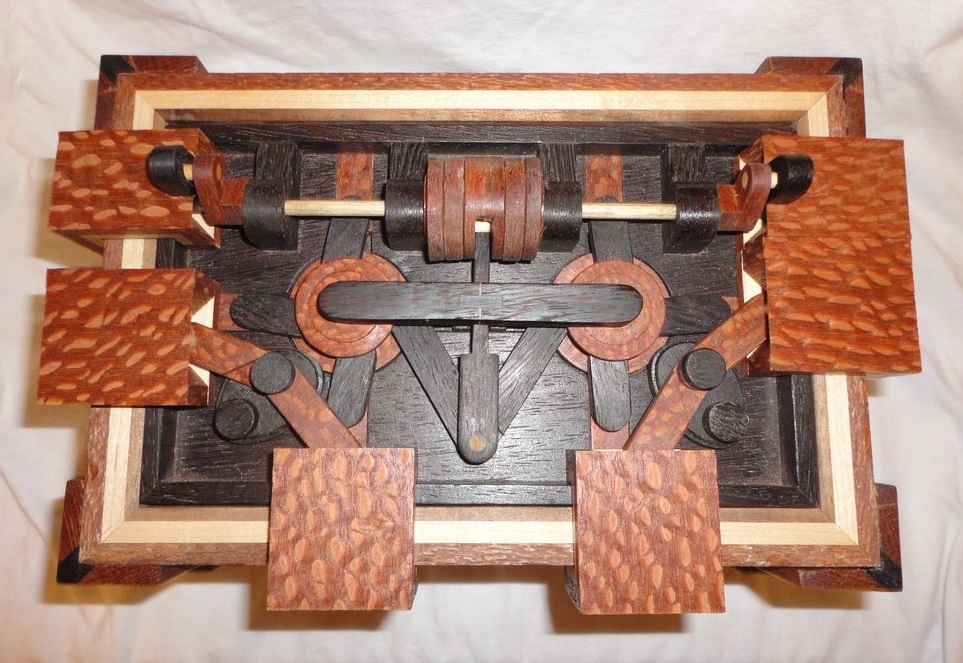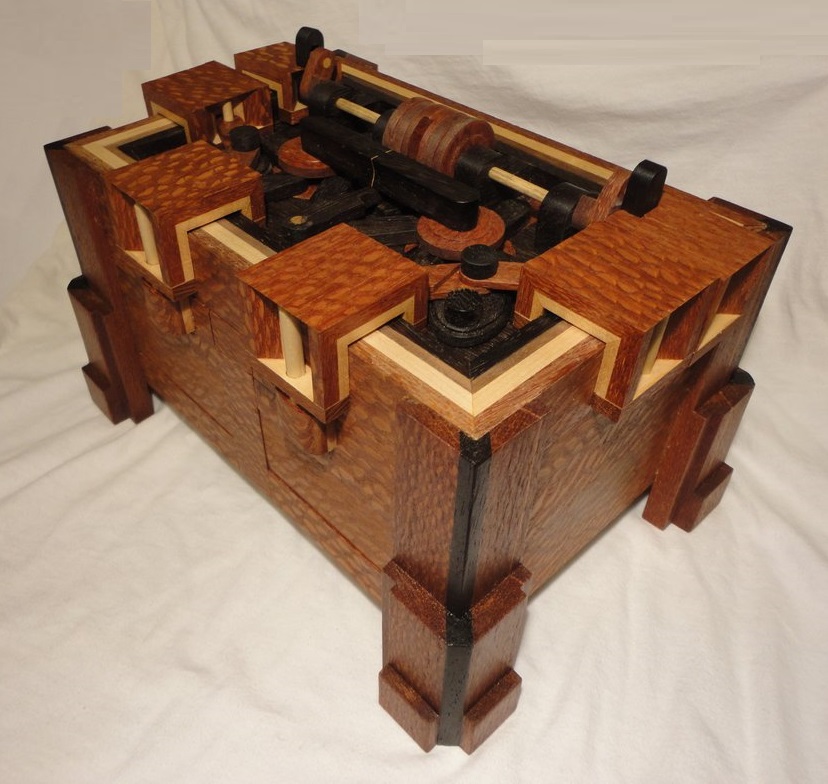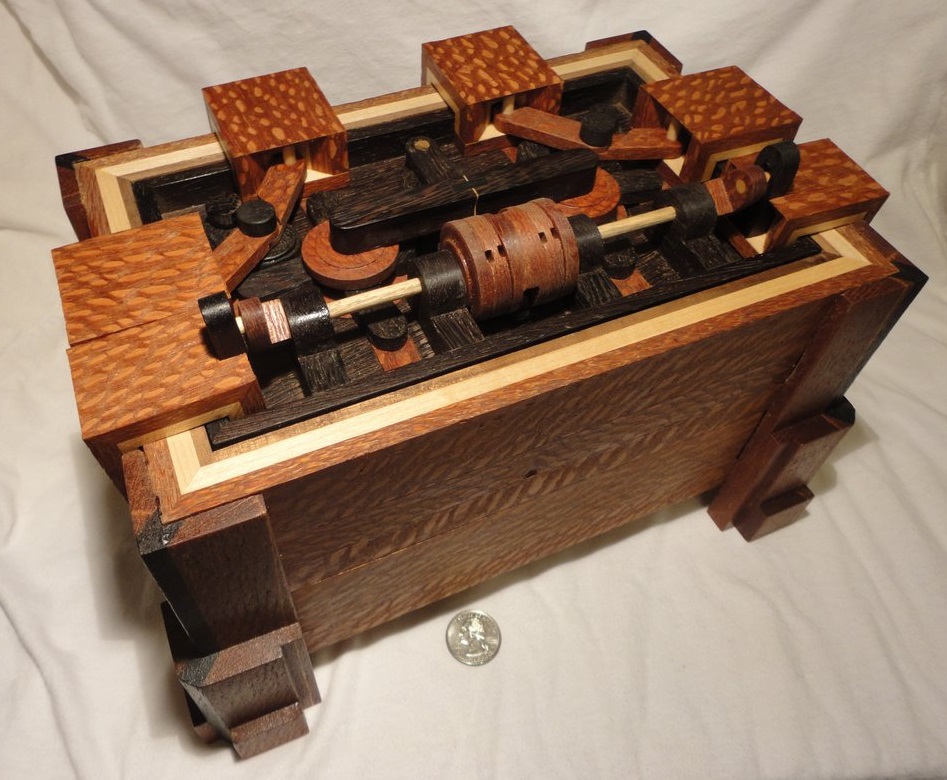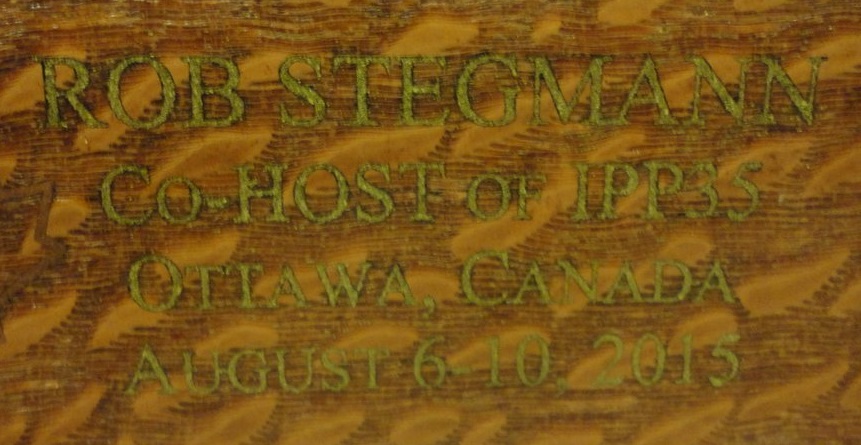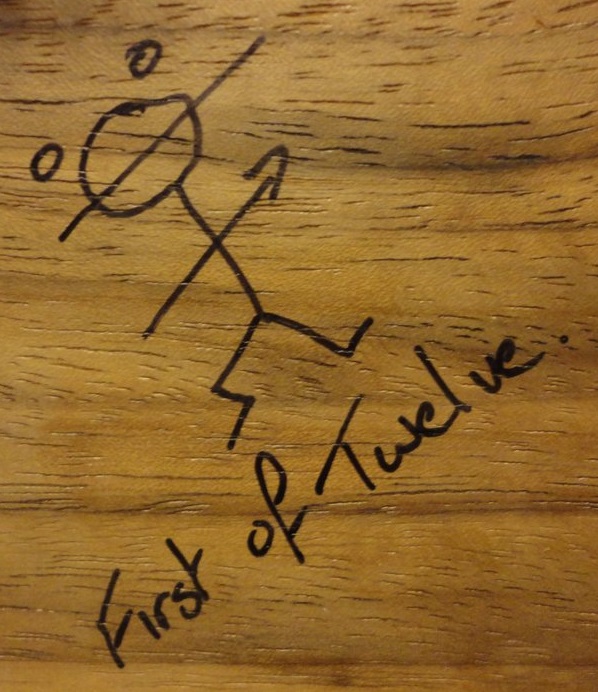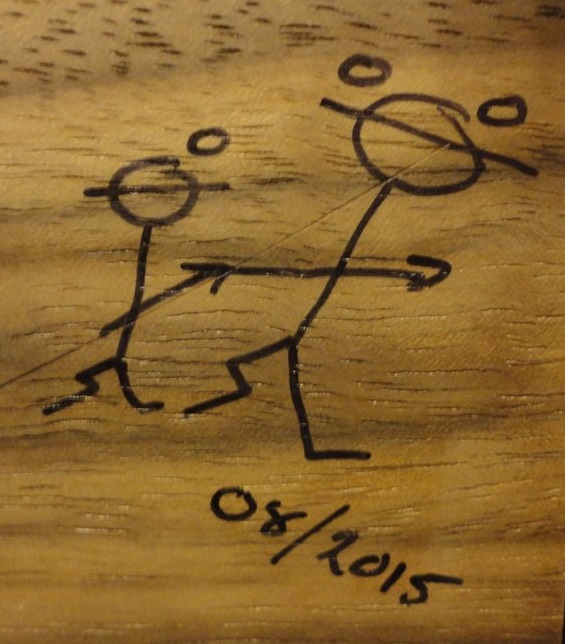 The Tinker Puzzlebox, crafted by Robert Yarger (Stickman) and Neil Hutchison (Stickboy) from Leopardwood, Wenge, and Maple.
A minimum of 49 steps are required to discover its three secret compartments, with the discovery of tools and hidden spaces along the way.
Thanks to everyone involved!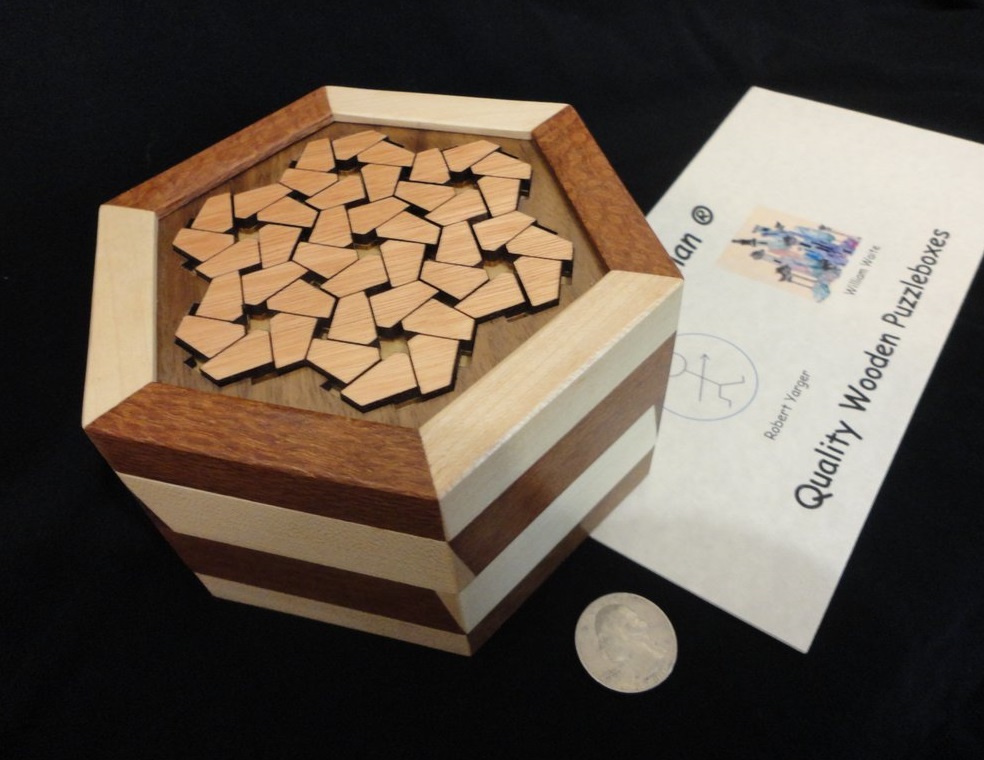 Edelweiss Puzzlebox - by Stickman (Robert Yarger) and William Waite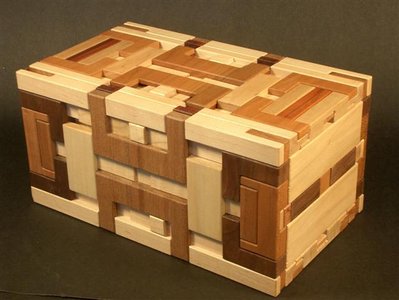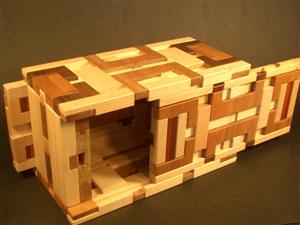 This is Stickman Box No. 5, multiple 18 of 45, designed by Robert Yarger and purchased at Cubic Dissection. What begins in the workshop as 15 pounds of maple, walnut, cherry, bloodwood, and oak, ends up as over 75 intricately shaped pieces that weigh in toto a mere 4 pounds and hold together without glue or fasteners! Overall, the box measures 10.5" x 6 3/8" x 5.25". The box can be opened in 32 moves, and then disassembled to its constituent pieces, if one is brave and/or foolhardy enough!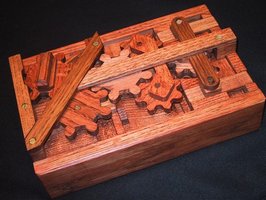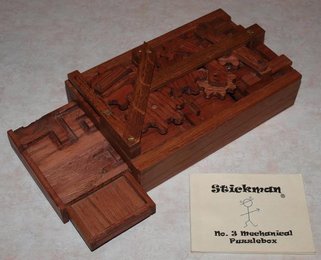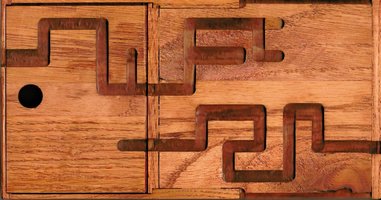 I also acquired a Stickman Box No. 3. It's a very mechanical-looking box, with several wooden gears on the top. An inner sliding drawer has a maze routed into it - manipulating the gears moves a pair of internal pegs that navigate the maze tracks. The sliding drawer contains three compartments that you must eventually find a way to open.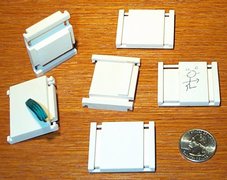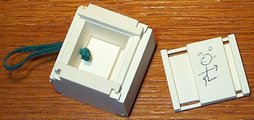 This is the tiny Stickman "Snowflake" box No. 9.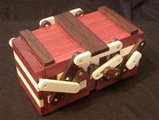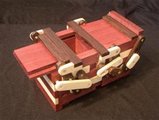 At IPP26 I bought a Stickman #11 Fulcrum Box.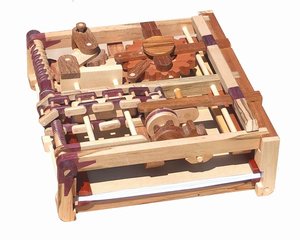 Stickman #25, The Milestone Box by Robert Yarger
See reviews by Brian Pletcher, Allard Walker, and Neil Hutchinson.
See my magnetic puzzles section for a Stickman #13 Chopstick Box. See
James Strayer's website
for a full collection of Yarger's boxes.
| | |
| --- | --- |
| Kelly "Snake" Snache and Robert "Stickman" Yarger are two talented puzzlebox craftsmen who have teamed up to create this Tea Box Puzzle, housed in an actual wooden Tea Box. A tea bag tag seems to be hanging out one side. Hmmm... | This is Granny's Tea Box - The Pendulum, a secret-opening box, made by Kelly Snache from a vintage wooden tea box. Very clever mechanism! I like it. See a review at Jeff Chiou's blog. |
Quagmire Puzzle Boxes
, here is a
Box Joint Box Secret Box
:

KCube
puzzle boxes, designed and made by Kim Klobucher: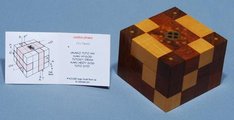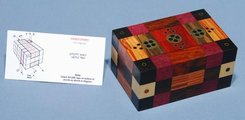 The left-hand model requires 50 moves to open; the right-hand model only 16. Here is a YouTube video of a box being opened.
I received a set of Makishi Puzzle Boxes - 18, 30, and 50-move examples: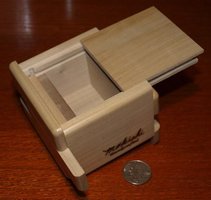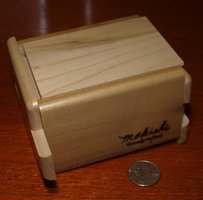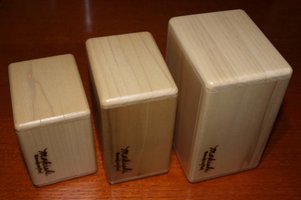 A few fellow puzzlers have posted favorable reviews, including Jeff Chiou, Brian Pletcher, and Oliver Sovary-Soos.
I, too, am very pleased!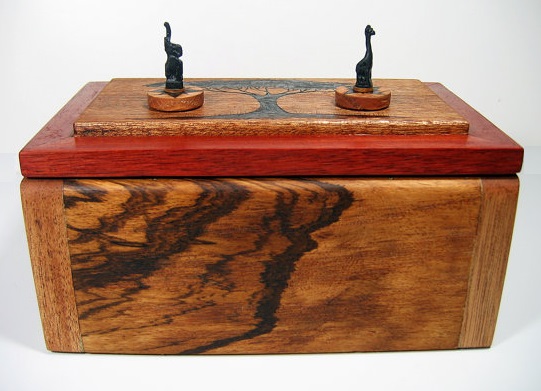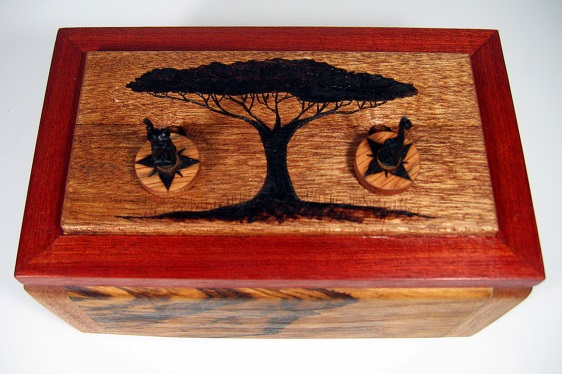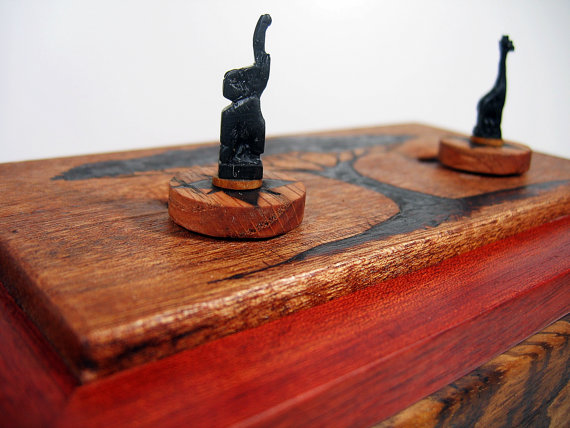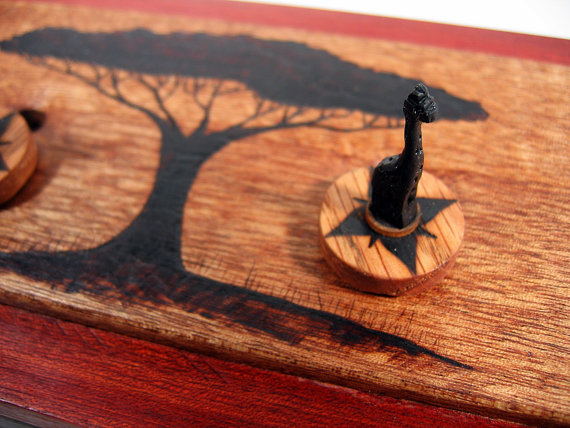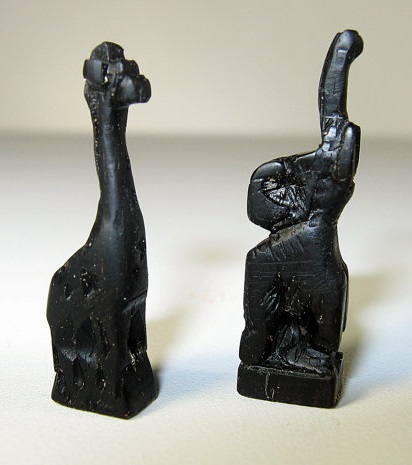 Serengeti Box - designed and made by Matthew Sobek
The Ebony Giraffe and Elephant are the keys to opening this Zebrawood,
Bloodwood, Alder, Oak, and Mahogany secret box.
But be careful or they'll jump out at you!

Diamond Case - from Pluredro
One in a series of four card-suit themed secret opening puzzles.
This one has an unusual and well-disguised opening mechanism.

Club Case Secret Box - designed by Junichi Yananose at Pluredro

Heart Case - Junichi Yananose, from Pluredro
One in a series of four card-suit themed secret opening puzzles.
This one was a hit at RPP 2018, so I ordered one online while there,
and I wasn't the only person to do so.

Spade Case - Pluredro.
The fourth of the card suit secret opening box puzzles.

Sequential Discovery Board Burred Box (SDBBB) - Pluredro (sold out)
A nice, hefty, and well-crafted puzzle - I enjoyed solving it and it was not frustratingly difficult.

Ring Case - a sequential-discovery secret opening box by Junichi Yananose at Pluredro
Karakuri Creation Group
is an association of Japanese craftsmen working to popularize and preserve the tradition of fine Japanese woodworking and Puzzle Box techniques, as well as extend it in novel directions. They run a club which for a nominal annual fee entitles members to several beautiful puzzle catalogues and books, one or more Christmas gifts, allows members to purchase their products at a discount, and provides access to private areas of their website.

Hermit Crab Box
by Shiro Tajima
I have the dark walnut version.

Here is a Walk of the Ladybug by Tatuo Miyamoto of the Karakuri Creation Group. This is a beautiful box with a whimsical mechanism. I had trouble with the drawer at one point, probably due to humidity, but with the cooler, dryer fall weather the mechanism once again works properly.

Byway Secret No. 4 - Iwahara - Rob Jones IPP30


Karakuri Small Boxes (Kobako) Nos. 1, 2, 3, 4, 5, 6, and 7.
Each has a different trick.
A set of four Karakuri Cube Boxes.



Karakuri Cheesecake Box - designed and produced by the Karakuri Creation Group
A gift from Allard Walker, a prize for being the winner of his 2012 Christmas Challenge. Thanks, Allard!

---


Accessory Box (KW-29-2) - Kawashima

---

The Karakuri Club Christmas 2005 Gifts (4 of 8)

Cube Box by Akio Kamei

Free Dial by Shiro Tajima

Secret Star by Hiroyuki Oka

Contrary Card Case by Tatuo Miyamoto
If you don't care about ruining the fun of opening them yourself, click the button to show them opened (and refresh the page to close them again):

---

The Karakuri Club Christmas 2006 Gifts (4 of 8)

Covered Chimney by Hiroshi Iwahara

Soba Box by Hideto Satou

Trick Box with a Top by Yoshiyuki Ninomiya

Spring Box by Akio Kamei

---

The Karakuri Club Christmas 2007 Gifts (4 of 9)

Secret Base by Hiroshi Iwahara

Hinge by Tatsuo Miyamoto

Covered Type Secret Box by Yoshiyuki Ninomiya

String Box II by Akio Kamei

---

The Karakuri Club Christmas 2008 Gifts (4 of 9)

Cube Box II by Akio Kamei

Confetto Box by Hiroshi Iwahara

Latch by Tatsuo Miyamoto

Dona Dona by Shiro Tajima

---

The Karakuri Club Christmas 2009 Gifts (5 of 11)

Moneybox (swing type) by Hideto Satou

Irregular Twin Box by Akio Kamei

Packing Box (mini) III by Yoshiyuki Ninomiya

Four Direction Drawer by Hiroshi Iwahara
This box won First Prize at the IPP30 Design Competition.

String Box Part II - Tsuburai

---

The Karakuri Club Christmas 2010 Gifts (4 of 11)

Parcel Box - Kamei

Tipsy - Miyamoto

String Box 2010 - Tsuburai

House With Trees - Iwahara

---

The Karakuri Club Christmas 2011 Gifts (5 of 10)

Secret Base 2 - Iwahara

Rotary Box - Kamei

Twin - Kawashima

Dragon Wing - Tajima

String Box 2011 - Tsuburai

---

The Karakuri Club Christmas 2012 Gifts (5 of 9)

Expansion IV (M-44-4) - Kamei


Twin 2 (KW-15) - Kawashima


Baby Penguin (KY-19) - Kakuda


Half Finished Box (RF-34) - Iwahara


String Box 2012 (TU-25) - Tsuburai


---

The Karakuri Club Christmas 2013 Gifts (3 of 9)

Expansion IV-2 (M-44-4-2) - Kamei

Bean Bag Drawer (RF-36) - Iwahara

Kuchinashi - Tajima
(Tajima is no longer a member of the Karakuri Creation Group.)

---


New Secret Box III - produced by the Karakuri Creation Group
All six panels move, 18 moves to open.
A nice neo-classic mechanism, not difficult, not too unusual.
Based on Kamei's M-38-3.

---


New Secret Box IV - issued by the Karakuri Creation Group
Level 32.

---


Expansion (New) - by the Karakuri Creation Group.
Akio Kamei is a master craftsman and a key member of the Karakuri Creation Group. His puzzle boxes are highly inventive and beautifully made, with prices to match. I own a few Kamei originals...
| | | |
| --- | --- | --- |
| I have an original edition Kamei Coin Bank. | Karakuri Club 2003 Christmas present, Star Puzzle Box, made by Akio Kamei. | This is the Karakuri Club 2004 Christmas present, Twin Box 3, made by Akio Kamei. |
| 3D Box (K20) - IPP16 1996 | Kamei's small Egg | Cassiopeia (Small) |
Many of my puzzle boxes are inexpensive Kamei reproductions from Bits and Pieces. The Pentagon Box, Octagon Box (Pile of Disks), Hamburger, and Crown are some of my favorites.
| | | | | |
| --- | --- | --- | --- | --- |
| My all-time favorite has to be the Pentagon Box. This has a very satisfying mechanism. | Octagon Box | Hamburger | Crown | Candy Box |
| Train Engine | Ribbon Box | Treasure Chest | Gift Box | Little Drawer Box |
| Book | Secret Gift Box | Secret Key Box | Telescoping Box | Heart Box |
Unfortunately several exhibit sub-par quality - the pickles on the hamburger are often seen unglued; the corners on the Treasure Chest came apart; the Book came apart; the Gift Box has some internal sloppiness which prevents it from working properly; the Candy Box does not open reliably...
Sigh.
I have some inexpensive traditional Japanese trick boxes, purchased at a shop in Hakone. You can read an article by Jerry Slocum discussing Japanese Puzzle Boxes and showing a diagram of the typical solution pattern.

This miniature (mame) box works well.

Here is a trick cigarette case.

---

These two Japanese secret-opening boxes were made by Hiroyuki Oka and purchased from The Unique Box Shop.

This is a 5 sun, 9-step box called "Notch Stripes."

This is a 3 sun, 12-step box. The different woods are: White - Mizuki wood from Japan, Yellow - Inomi wood from Japan, Green - Hoo wood from Japan, Beige - Beech wood from Germany, Brown - Walnut wood from North America, Red - Hekakoro Rengasu wood from Southeast Asia
Heartwood Creations makes some fine puzzle boxes. I own several "first quality" - and I bought some "seconds" on auction, but I wouldn't recommend it - unfortunately the mechanisms are defective (they open inadvertently) rather than the finish (which to me would be preferable).
| | | |
| --- | --- | --- |
| Gravity Pin Box | Button Box | Spin Box |
| Rockit Box (2nd) | Seesaw Box (2nd) | Terra Box (2nd) |
| | Knock Box | |
Castle Money Box
, very similar to the one shown in Hoffmann's Puzzles Old & New on page 22. The puzzle is a nice size, larger than I expected, and the wood (I believe it is Boxwood) has a warm, beautiful glow.
---

I have two examples of the Dice Box (or Barrel) described in Hoffmann - nice vintage boxwood turned pieces. The one on the right came from France and included 3 tiny dice.

This is the Apple Puzzle from woodturner John Berkeley. The Apple won an Honorable Mention in the IPP21 Design Competition. John also offers reproductions of many of the classic turned puzzles in Hoffmann.

Two antique "treen" puzzle balls, similar to the "Ebony Puzzle Ball" described in Hoffmann (but these are not made of ebony wood). The circular engravings are supposed to disguise the opening - a cylindrical "plug" can be pushed out by pressing on an opposite small dimple. The plug then has a friction-fit lid.

Zulu Box - a vintage turned puzzle
Boxwood - appears in Hoffmann's classic volume

---

Some vintage puzzle snuff boxes

The simplest trick-opening box has to be the two-piece Black Box. I got mine a long time ago, but supposedly Mag-Nif or Oriental Trading Company offers them.

This "Treasure Box" is another classic design in plastic. It is similar to the Black Box in that everything depends on your grip.
U.S. Patent 5611536 - Foreshew 1997

2-drawer Trick Box

The Snap Box from B&P

The Corian Slider Box from B&P - designed by Frank Chambers

The Constantin Knob Box from B&P

The Secret Sliding Box from B&P

My friend Jay gave me a beautiful Burl Box. It is more art than puzzle.

I bought a hummingbird box when I was in Costa Rica. They're hand-made, but mass-produced for the tourists. Not very puzzling.

I received a thoughtful Father's Day gift - this Guitar puzzle, made in Costa Rica. Thanks, C!


This is the Black Box designed by W.L. van der Poel. Peter Knoppers has some info on his site. It is discussed in CFF, issue 25, part 3, December 1990, pp 4-7.

Secret Rectangle Box
B & P

Boardman Box
B & P

Keeper Box
B & P

Alice's Puzzlement
From Pentangle.

Snap Latch box - Bits and Pieces

Eclipse box - Bits and Pieces

The Celtic Knot Box by Constantin
Purchased from Bits and Pieces.

The Sonneveld Box - made by Tom Lensch
Purchased from Tom at IPP28 in Prague. Beautifully made - it looks edible!
I had wanted one since seeing Trevor Wood's version.

The rather controversially named "Bin Laden" box (laden means drawers in Dutch) - the name is meant as a hint to the solution. By Rik van Grol, IPP26.

Oval Trick Box
Purchased from Bits and Pieces.

Secret Enigma Box from Bits and Pieces.

The Ringed Heart
Purchased from Puzzlemaster, designed by Doug Engel.

Mt. Fuji, from Mr. Puzzle Australia - IPP30.

Ambidextrous Hexduos - designed by Matt Dawson - made by Robert Yarger - presented at IPP30

The Bee Box - Designed by Constantin
See an explanation at Grand Illusions.

Mouse House, designed, made, and exchanged by Stephen Chin at IPP32

Secret Lock Box II - to open this good-sized box, you must discover the proper settings for the three dials.
From Dave Janelle at PuzzleCraftHouse.

Naked Secret Box Red - Yamamoto, Kimura IPP34

Naked Secret Box Orange designed by Akio Yamamoto

Firefly Hotaru designed by Akio Yamamoto
A tiny hand-made secret box.
---

Capricious ("Capriciaus") Cube - Tamura - IPP30
A small cube inside is free to slide and locks the cube.

The Sway Cube, designed by Hidekuni Tamura, modified and nicely made in a great "pocket" size by Peter Wiltshire.

---

The Haselgrove Box requires you to tilt it this way and that, in an effort to reposition internal sliding blocks and allow the pieces to be unlocked and removed. Then you must re-assemble it. I have a version from Cleverwood, and a very nice version from Eric Fuller made from Wenge and Purpleheart.

---

Eric also made this never-before-produced design called Meijer's Box, from Maple and Spalted Yellowheart. According to Eric, Berend Meijer "became fascinated with the Hazelgrove box and decided to make his own design along the same lines. His unique creation uses a sliding piece that moves into a hole in the front of the box to lock the pieces in. The concept is the same as the Hazelgrove box, but the operation is completely different and quite tricky."

---


Kenal Cube - designed by Alfons Eyckmans and Ken Johnson, made by Alfons Eyckmans from Padauk and Oak.
A hollow cube with six sliding panels - depending on the setting of one panel, it requires either 135 or 257 moves to open.
See information on Goetz Schwandtner's website

---

Jeff Aurand was one of the puzzle box craftsmen who contributed a box to the Apothecary Chest, assembled by Robert Yarger, a.k.a. Stickman. Jeff's box is called "Reversal of Fortune." Unfortunately, mid-way through fabrication, Jeff discovered he had mis-calculated a critical dimension and ended up with several unusable partly-finished boxes. Jeff was showing them to us, intending to finally clean house and dispose of them, and I suggested that a slight modification, while sacrificing perfect symmetry of the box, would allow the mechanism to function after all. Jeff duly made some slices and voila, now the cast-offs would open! Jeff kindly distributed several to lucky attendees.

Thanks, Jeff!

---

17 Move Puzzle Box - from MediterraneanCarver on Etsy.
A bit rough, but functional.
Has several tricky moves.

---


Orion Box - designed by, made by, and purchased from Patrick on Etsy at InfiniteLoopGames.
Not too difficult, but a decent value.

---


Bitcoin Puzzle Project - Bitcoin themed Playing Cards embodying a slew of arcane details,
inside an acrylic puzzle box designed by Oskar van Deventer.
Offered via Kickstarter.

---


The Antikythera Tablets - Martin Raynsford

---

Codex Silenda by Brady Whitney.

From the time of my backing the original Kickstarter campaign in August 2016 to the delivery on October 13th 2020, it has been over four years. Brady had in excess of 2500 backers and I was number 177. Brady had kept up a good stream of communication - we had many updates and I knew of other backers receiving theirs, so I admit I have been miffed about having to wait so long, given my relatively early subscription. I must say I have to applaud Brady for persevering in order to fulfill the original orders despite seemingly unceasing tribulations (some self-inflicted as with many naive enterpreneurs learning things the hard way), in definite contrast to other campaigns that simply take one's money and disappear (but then that is among the risks of Kickstarter campaigns and you have no business subscribing to any unless you can come to grips with that up front).

Was the Codex worth the wait?

If you're still awaiting or have not yet solved yours, I suggest you skip reading the below so you may form your own opinion without spoilers.

The basic Codex consists of five 1.25" thick pages made of laser-cut plywood, each containing a different integral puzzle which must be solved in order to unlock the ability to turn to the next page, culminating with a secret panel engraved with mirror writing characteristic of Da Vinci (shown above with its more easily legible reflection). It's a great concept, and Brady's visual design for the Codex is eye-catching and attention-getting - the Codex actually featured in an episode of the U.S. television crime drama "NCIS New Orleans." The appeal speaks for itself - Brady's travails and delays with the original campaign stem in large part from attracting an unexpected number of subscribers. The design was even cloned in Asia! It's proven popular enough that Brady set up a successful follow-up campaign - but he has learned from some of his past mistakes and is now charging more for the product.

I selected the option of two additional pages. The resulting Codex is quite substantial and bulky, but the pages are "bound" together robustly and I never worried that they would break apart. The Codex comes with a faux antiqued sheet that introduces a storyline about Leonardo Da Vinci's apprentice (you) who decides to investigate Leonardo's secret Codex Silenda puzzle book. Each new page of the book reveals more of the storyline, recapping and confirming the solution steps so far. This is fortunate because (a) often I was able to solve a page by a method other than the intended one, and (b) the book is decorated with many puzzling symbols that by rights should play a part in the ultimate solution, but the availability of shortcuts eliminates the need to understand anything about the symbols, so later reading about them at least provides some appreciation for what was intended by their inclusion.
Overall, the Codex seems well made and functions well enough - there were no broken puzzles in the copy I received, and nothing hung up beyond a bit of friction that could be overcome without undue force. The book does have various small scuffs and chips, but nothing that is out of keeping with the "distressed" antique aesthetic. Others have reported that a puzzle or two were "solved" in transit and also that over time some glue joints fail or wooden panels warp.

As a veteran mechanical puzzle collector and solver, I find it difficult to offer a "review" of the Codex. Clearly Brady has put thought into his design, but the puzzles here violate some of the accepted principles of what makes a good mechanical puzzle - perhaps the puzzles are appropriate for the broader non-enthusiast community that Brady probably had in mind. For example, one such principle is that no outside tools should be required beyond what is given with or can be discovered within the puzzle itself - yet the very first challenge here requires an outside tool - albeit you are obliquely hinted this via the instructions. Nevertheless, I found that disappointing. My other chief complaint relates to the "shortcuts" I spoke of earlier - several page mechanisms required no real technique beyond simple lock-picking - there were missed opportunities to include substantially better puzzles at almost every turn.

In the end, I have mixed feelings about the Codex. The long wait has been frustrating. But, Brady gave backers plenty of chances to get a refund along the way - it was my choice to stick it out. The imposing elaborate-seeming puzzle I waited so long to receive I solved pretty rapidly due to the shortcut-admitting mechanism designs. You can see Chris Ramsay attack a copy in his usual style on YouTube - Chris concludes by almost apologizing for his inability to comprehend and make use of the symbols. Really though, a mechanical puzzle that so easily allows circumvention of its intent is just plain badly designed.
I am happy I finally got my copy but I am feeling underwhelmed. As petty as it may seem, Brady's rationale of order fulfillment eludes me completely and I know it left a bad taste in the mouths of other puzzlers as well. I did have some fun moving through the pages and admiring their visual design. Yet I will always prefer a well-designed mechanical puzzle over a pretty prop.
---
This is a
Cryptex
from
Encrypta Gifts
. This device has enjoyed a surge in interest due to its appearance in the popular book "The DaVinci Code."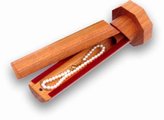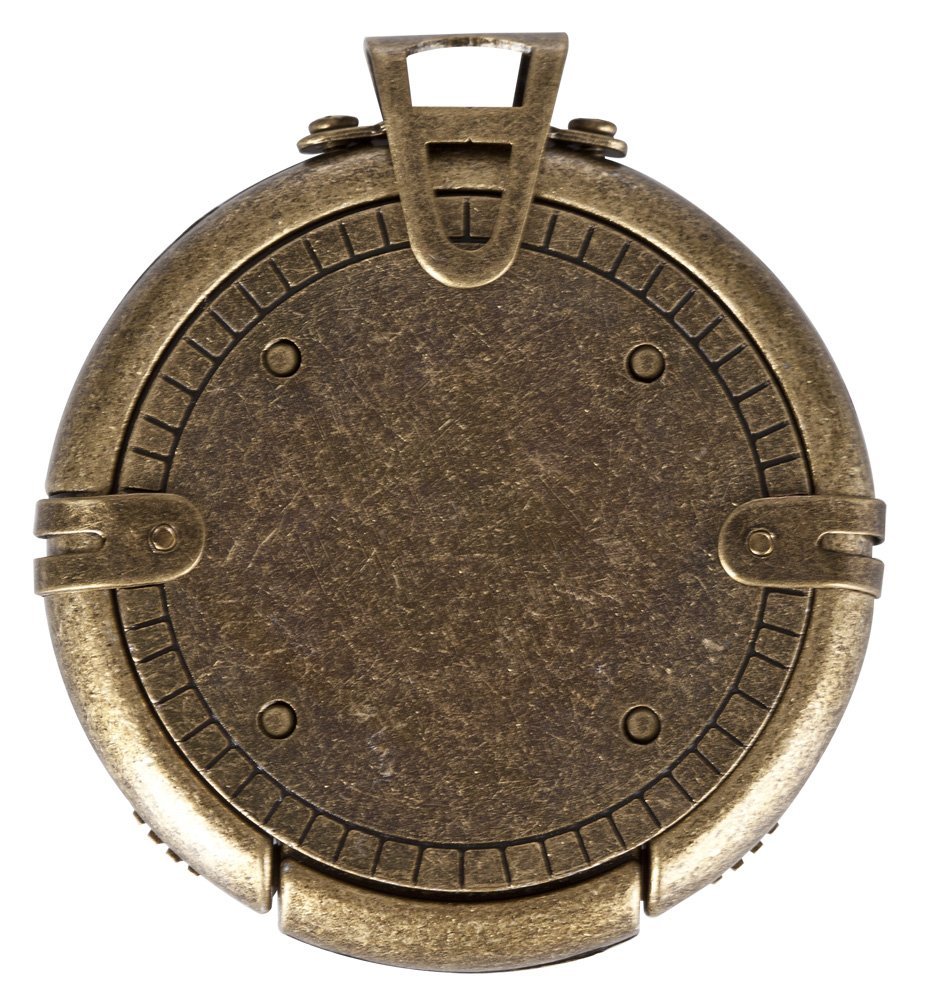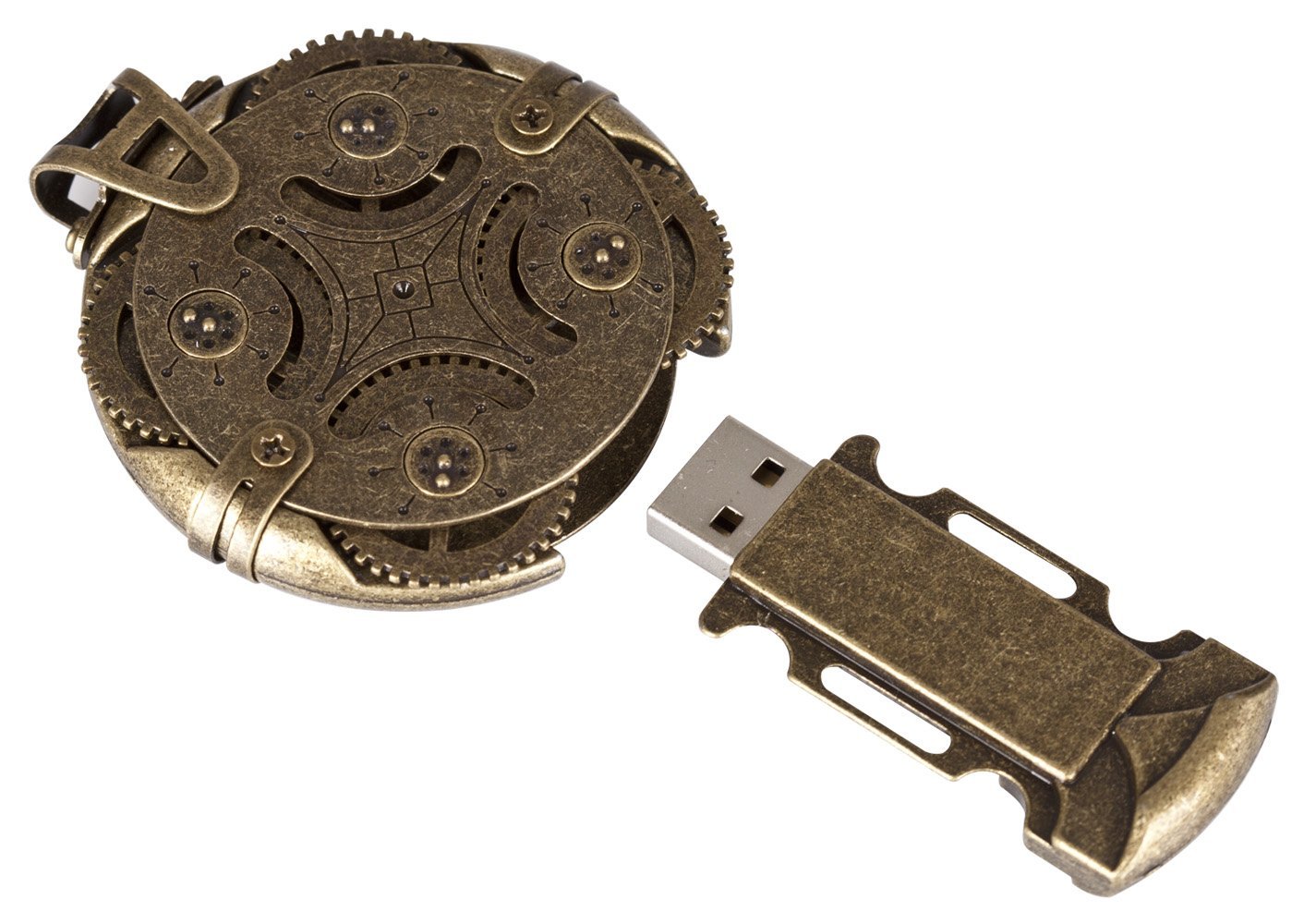 Cryptex Round Lock USB Flash Drive
Here is yet another Cryptex variant that caught my eye - this one, according to the seller,
is an official Sony Pictures replica of the Cryptex from the Da Vinci Code movie.
The five-letter code can be changed. It is about four inches long. Overall I think it is of satisfactory quality -
it is pretty loose but it is hefty and seems decently made though an end cap is too easy to unscrew.
I found an online reference at www.noblecollection.com
(a website listed on the back of the included instruction card).
The $195 price there is about four times what this can be found for at a popular
auction website, though I believe their version is larger (6 inches) and may be a bit better quality.
The auction version does not include a screwdriver.
The auction version may be the "Mini Cryptex."
The website on the scroll shown in the photo (found inside the Cryptex) is defunct.
See the Wikipedia entry for Da Vinci Code WebQuests for more information.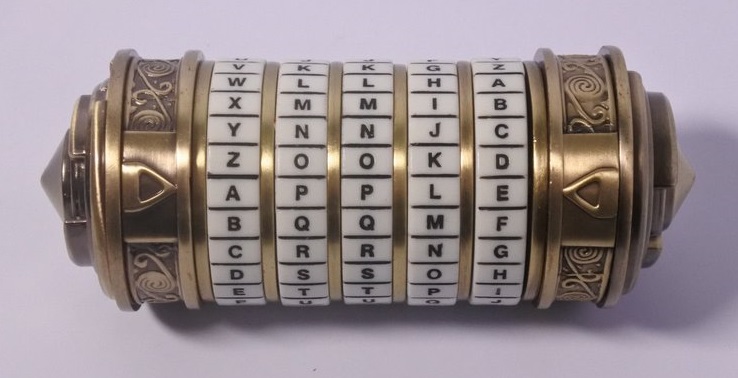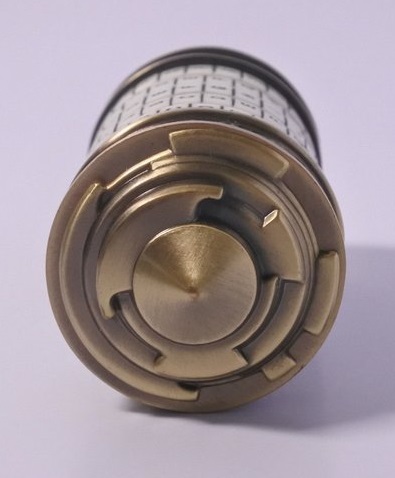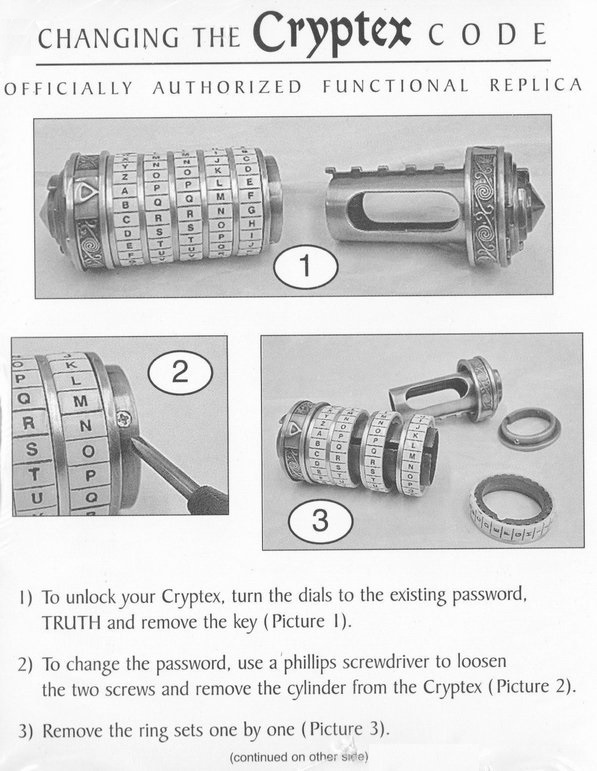 ---