What's New
Site updates, and puzzles I have recently ordered or received...
---
December 2005 - Happy Holidays!
---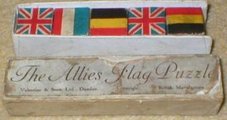 ---
Xmas gifts from Mom: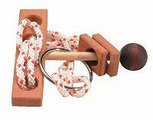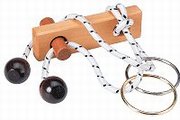 ---
The Karakuri Club Christmas 2005 Gifts (4 of 8):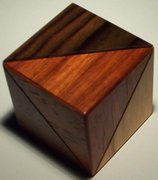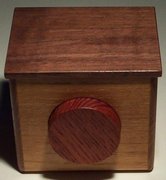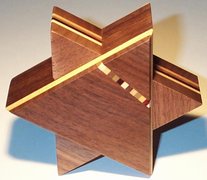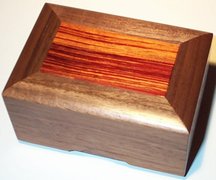 If you don't care about ruining the fun of opening them yourself, click the button to show them opened (and refresh the page to close them again):
---
New items from Eric Fuller's Cubicdissection: Robert Yarger's Stickman Box No. 9 "Snowflake":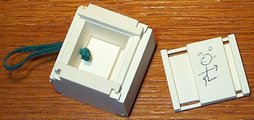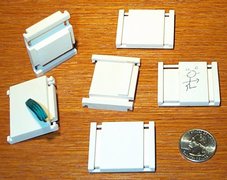 Oskar's Matchboxes by Eric Fuller: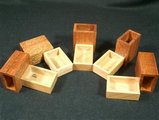 Tamura's Divide Cube in Rosewood by Fuller: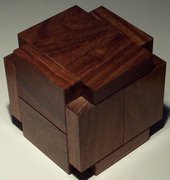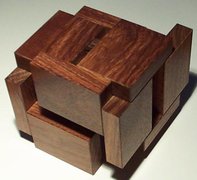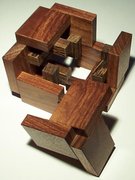 ---
A Christmas order from Hendrick Haak, some puzzles in Aluminum by Roger:



---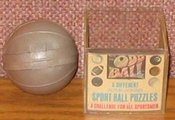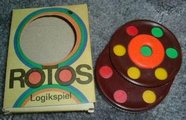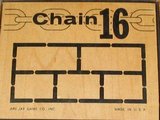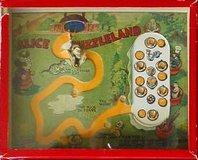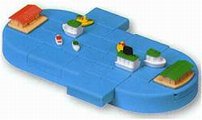 ---
I finally completely disassembled, photographed, and reassembled my Immaginario Lunare.
---
I wrote a new section on shunting puzzles.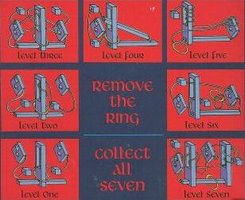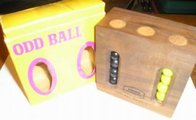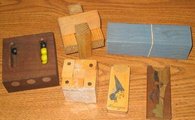 A set of Mag-Nif Mighty Midget puzzles:






---
November 2005
---
I've finally split up the allother page - it had so many images, not all of them were loading before timeout. I've created a separate page for Dexterity Puzzles. I have considerably enhanced my section on R. Journet dexterity puzzles. I have added a lot of images to the Tanglements page - I may have to split up that page, too, soon... I have added a condensed What's New page.
---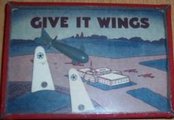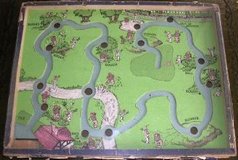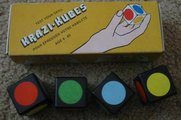 ---
From the Karakuri Club, a Hermit Crab Box:

and a Karakuri Small Box No. 1:

---
From Eric Fuller at Cubicdissection: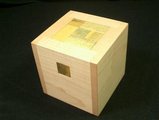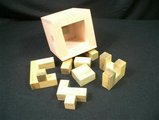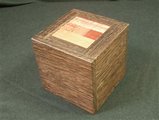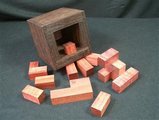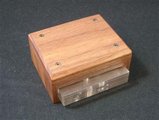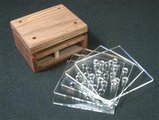 ---
Some more Journet puzzles: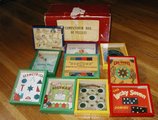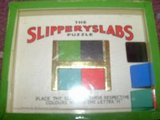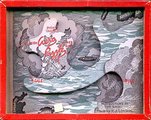 ---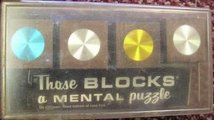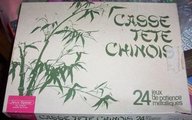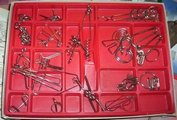 ---


---
October 2005
---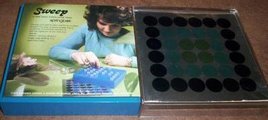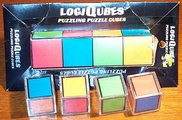 ---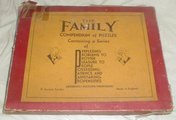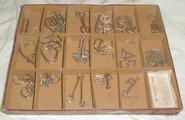 ---
A 7-piece truncated cube, and a "Patio Block" from IP (who are, sadly, taking a hiatus from puzzle-making):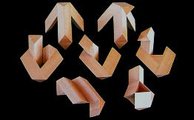 ---
A "Magic Sphere" and "Bright Brain Ball and Diamond" from PhysLink.com.

---

This is a sculpture puzzle called "Moon Pi" made by the artist Bathsheba Grossman, using a direct-metal 3-D printing process (Ex One / Prometal) driven by a CAD design. I learned about it via James Dalgety's Hordern-Dalgety Puzzle Museum site. James (and others) say it is very hard to assemble. We'll see.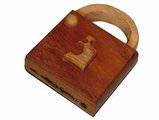 This is an "Utterly Unique Puzzling Padlock" purchased from Frik-n-Frak's Curio Shack.
---


---
Some cool stuff from Mike Green: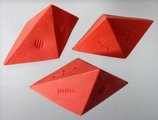 ---
From Bits and Pieces: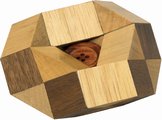 ---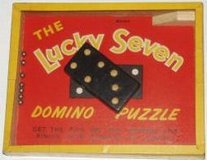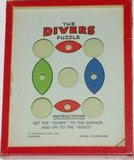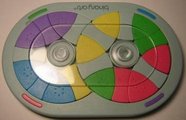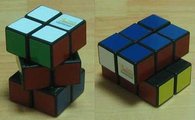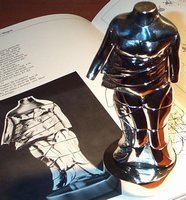 ---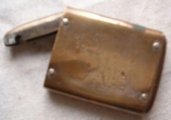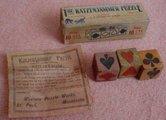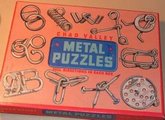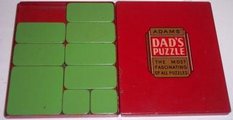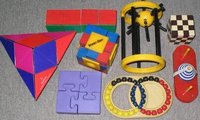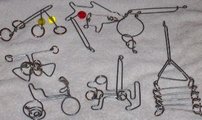 ---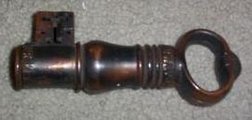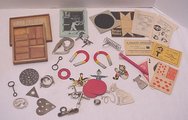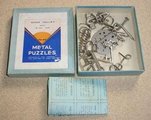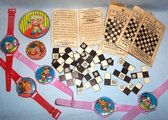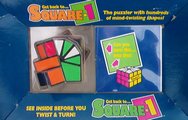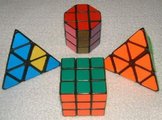 A Triamant folding "puzzle"

---
September 2005
---

---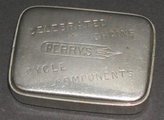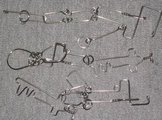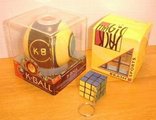 ---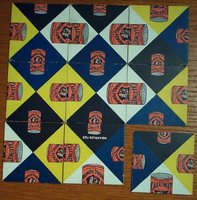 According to Slocum and Botermans in their book "Puzzles Old and New" (1986 Plenary Publications), the first edge-matching puzzle was patented by E.L. Thurston in 1893, and used by Calumet as advertising for their products.
---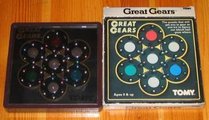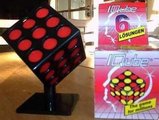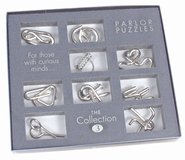 ---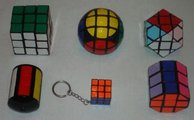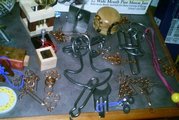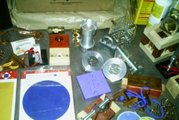 ---

This is an example of the vintage "Ebony Puzzle Ball" described in Hoffmann. The circular engravings are supposed to disguise the opening.
---
This is a trick match-case (vesta), with an engraving "How the Devil do you open it?" This is an example of the "Ne Plus Ultra" mechanism described by Hoffmann.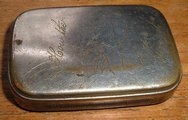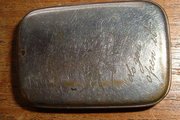 ---
Three Japanese Five Chinese puzzles, from a vendor in France: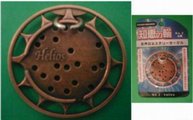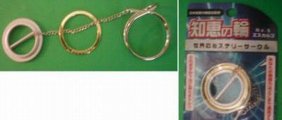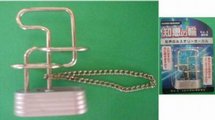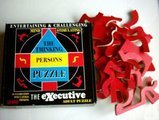 ---
From Bits & Pieces: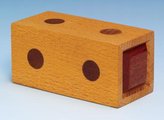 ---
My Two-Ns Cube made it to Ishino's site.
---







---




From Eric Fuller: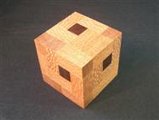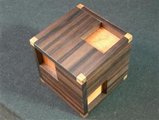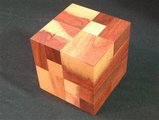 ---


---
August 2005
---
This is a Cryptex from Encrypta Gifts.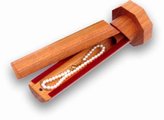 ---

Not exactly a puzzle, but pretty cool anyway - I'm getting a Maxwell's Top from Lee Valley. Read more about Maxwell's Top here and here. I'd never heard of Maxwell's Top before I discovered references to it while looking for references to a particular puzzle book called Engineer Through the Looking Glass. Chapter 4 is available on-line as a PDF.
---
I finally updated my Books page. Check it out for a link to a free puzzle book you can get.
---


---








---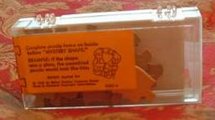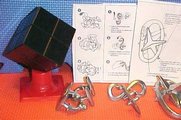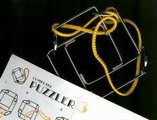 ---
Gifts from Brett: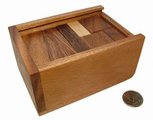 ---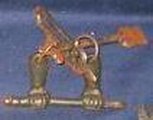 ---
From Bill Cutler, a Binary Burr and a Key: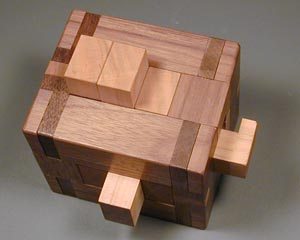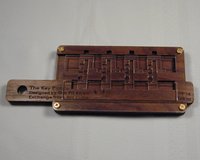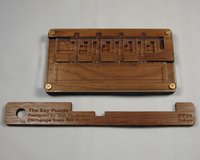 A Cube-It magnetic puzzle:


---
From Games People Play, a Peppermint Twist, a Logika Triadenspass, a Philos Hook Cube, Framework, and Malaga, a dovetail cube (name unknown), a 007 Shaker, and a "No. U324":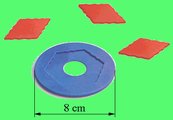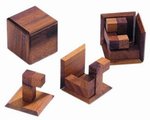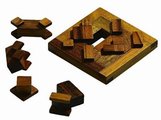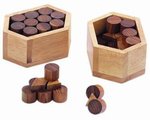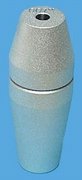 ---
From Cubicdissection, a Cam Box, Augmented Four Corners, and Triple Play: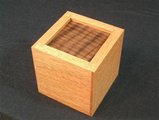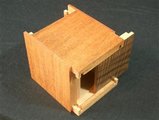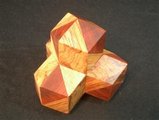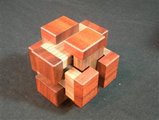 ---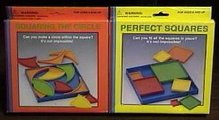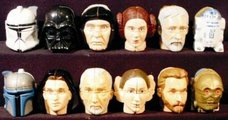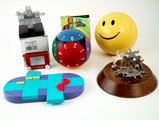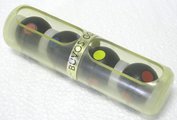 A 1943 "Bombing Mystery" puzzle - make a square from all the pieces: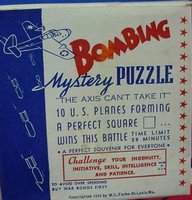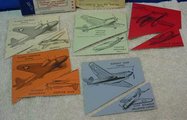 ---
July 2005
---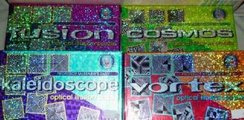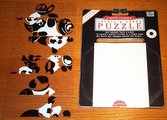 ---
I thought it would be fun to put a "What I'm working on lately" section on my home page.
---
I had ordered two puzzles from Puzzlecraft, but they never arrived. I made several attempts to contact them, by phone and by e-mail, but they never got back to me with any response whatsoever. I am mystified by their behavior, and I had no choice but to cancel the charge. I am still wondering what happened, and I am disinclined to do business with them again.
---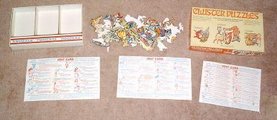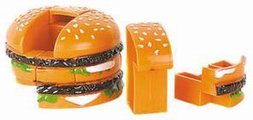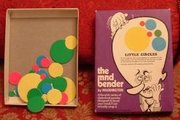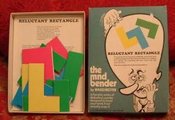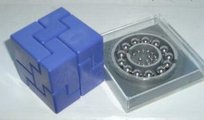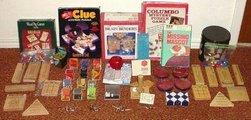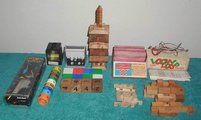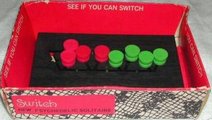 Included in the above were a set of what I believe are "Crazy Cubes" (in the Instant Insanity family):

and a couple of Nervous Breakdown dexterity puzzles:

as well as an original 1950's Sputnik weave-type (Crossed Sticks family) puzzle: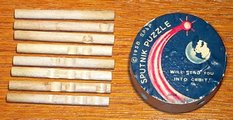 ---
A "Geometricks" book with punch-out dissection problems: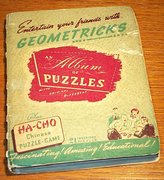 Tucker Jones' Traveler's Woe and Freedom's Ring:


Extra Synergistics Cracker Jack and Pyrix: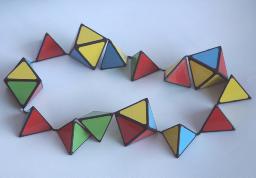 ---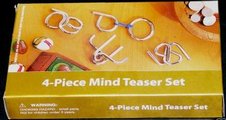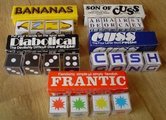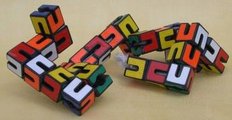 Hoo-Doo from Tryne: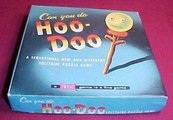 Winning Ways For Your Mathematical Plays Vol. 4:

---
June 2005
---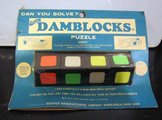 From Stumpy Originals: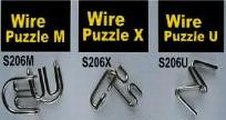 From Pelikan, courtesy of Bernhard Schweitzer:


Bernhard recently related the very sad news of Joseph Pelikan's death. Parlor Puzzles Set #2, a 4-position Whippit, a Rubik's diamond-shaped puzzle, Milton Bradley's It's Knot Easy: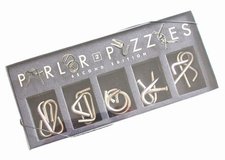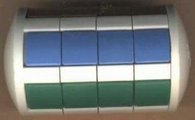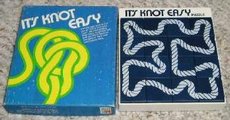 Target stores' tanglement sets from 2003 and 2004:&nbsp


From Mr. Puzzle Australia: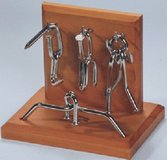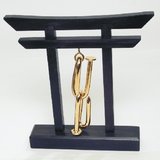 From Puzzlesdownunder: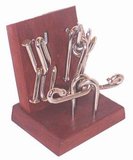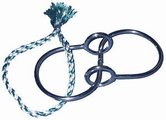 ---
An 1893 White City Puzzle Bank: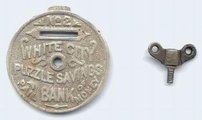 A Hartley's Humpty Dumpty Egg puzzle:

A vintage Chadwick Miller "Think" puzzle:

Uncle's Ladder:

A vintage Gilbert Puzzle Parties boxed set:

Mattel Brain Drain Hexagon Sense-a-gone:

A Michelin Man (Bibendum) keychain puzzle:

Tedco Mirage Numbers Up:

---
A 6-position Whippit:

A 1970's vintage Banana Split:

Some tanglements:



---
A Buvos Golyok (Instant Insanity family):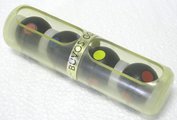 Milton Bradley's Pac-Man puzzle:

A vintage Dr. Nim:

A BackSpin and TopSpin (cheap):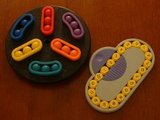 A vintage U-Haul promo tanglement: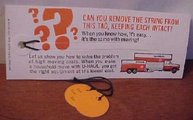 ---
An Eternity Meteor:

A set of wire puzzles: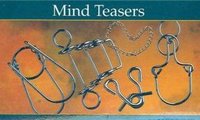 A set of 5 wooden tanglements: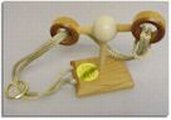 (I've since seen these "Stumps Puzzles" on the IQ Puzzles site. It looks like I've obtained A, F, L, M, and N.) A Hanayama Cast Enigma and an Uncle's Triad:


Damblocks (in the Instant Insanity family), and a Link Puzzle: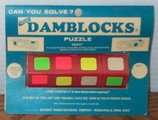 ---
Ah, summer is almost here! We'll be breaking ground on a new swimming pool soon. I have updated most of the pages with new stuff - the count is somewhere over 1100 items now. From Brilliant Games and Puzzles, a Snake Pool and a Triangle Cube (aka Pantene):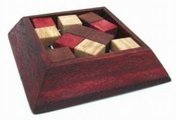 Thinkfun's TipOver from Stewart Toys: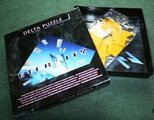 ---
Made a LiveCube version of William Waite's clever Allsides Cube: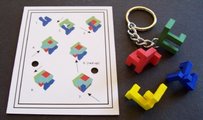 ---
May 2005
---
Happy Memorial Day! Got another copy of Binary Arts' Mystery Shapes designed by Oskar van Deventer, Rising Mountain stacking puzzle from Brilliant Games and Puzzles, took a chance on another magic trick - Ring on Bolt, a Peanuts packing puzzle, the Mental Case from Frik 'n' Frak, another Dovetail by Reiss (my other one was "chewed"), a lot including an Apple by Lakeside, Tee Time from XEX, another set of wire puzzles, and a 1934 Chicago World's Fair Egg jigsaw. Note regarding the Ring-on-Bolt trick - don't bother. I should have learned my lesson by now about magic tricks not making good puzzles, but hope springs eternal :-)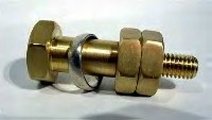 ---
Spring clean-up on several pages. Lots of new stuff on the Tanglements page, including some vintage puzzles and better pics of hard wire puzzles. I need to do a new count soon...
---
Got another set of Geo-Logic Penta-Logics, and a set of 3 tanglements.

Hi-Q Confusion: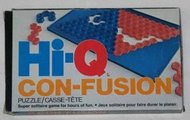 brass burr: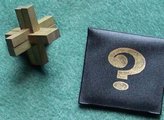 Astrolabacus:

Four Square:

Indefinity:

Hi-Q Fusion: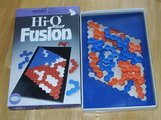 a Green Dool-O-Rinth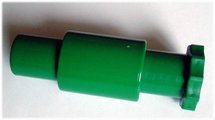 and a "Red" Dool-O-Rinth: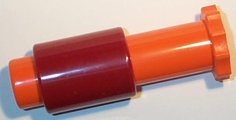 Catch the Magic Ring:

A complete Boxed In by Milton Bradley:

---
April 2005
---
Received from puzzlefactory.com:



---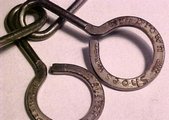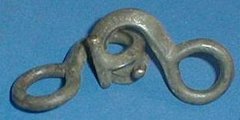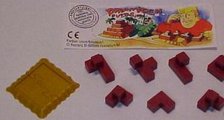 ---
Received a 6-piece Truncated Cube in Paduak wood (beautiful!) from IP: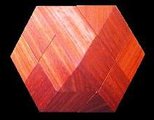 Also from IP, a sequential 4-piece Truncated Octahedron in Maple:

---
I finally won a Rubik's Domino:

---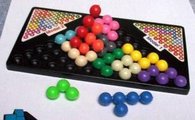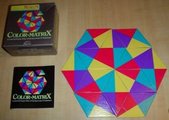 ---
A Fool's Spool (in a lot), Pattern Pending Cubes from Parker Bros., a Synergistics Miller Beer Can, and the Diamond Mind by Constantin.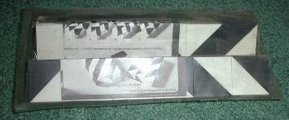 ---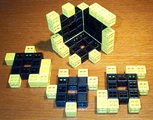 I finally received some back-issues of the CFF newsletter I had ordered, and I have been trying some of the designs using LiveCube. See my Homemade page...
---
Just won a Waddington's Tricky Triangle:

---
March 2005
---
From a trade with P.F. Ramos, a Twin Pentominoes Into a Light Box, of his own design, made by IP:

---
From auction: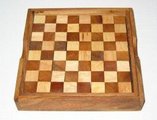 ---
Received Franco Rocco's Immaginario Lunare from James Dalgety:

---
Found a Gradual Despair Yellow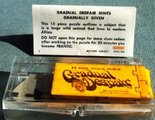 ---
From auction: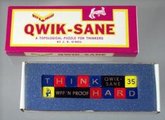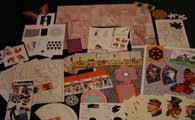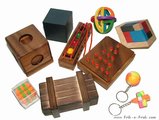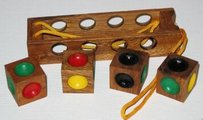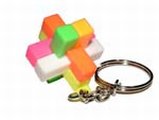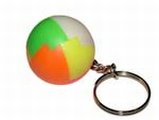 This assortment from Frik-n-Frak includes a Color Cubes, and a couple of key chain puzzles.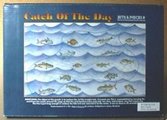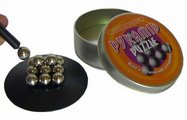 ---
Ordered a "Not A Pipe" silhouette puzzle-in-a-matchbox from toymobile.com

They were out of the Make-A-Heart.
---
From puzzle-factory.com, a Trilogy II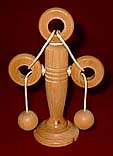 and a Crazy L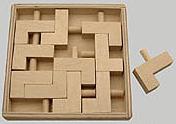 ---
A Berrocal Mini-Cristina:

---
From Arabesk,




The Les Jeux du Roy Knight and Bishop were 3D jigsaws so I elected to forgo them, and the Constantin Surface was out of stock.
---
A Paracelsus puzzle:

---
Added a new page showing what's in the cabinet. Added a textual menu to the bottom of the home page to improve search engine indexing (thanks, Greg).
---
Kagen Schaefer's multiple-award-winning Dodecahedron Box: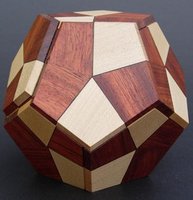 Some new items from Cubicdissection: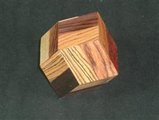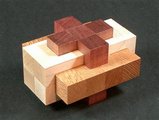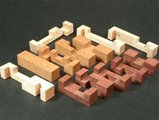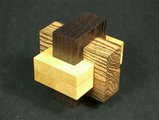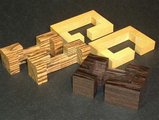 An auction lot including Mag-Nif's Switch and an Orb (not shown):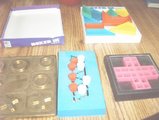 ---
Dozens of new links on my Links page...
---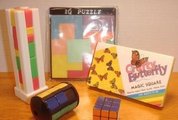 From R.D. Rose, this beautifully made Triple Dovetail Triangle.
---
February 2005
---
Got some more LiveCube - found some new designs to try and updated my Homemade page. Also updated the Wish List page with a Twisty Polyhedra section. Reorganized some of the sections and expanded the ring menu on my home page. Included a shot of my curio cabinet containing nicer puzzles, sculptures, and mineral specimens. To reduce this page's load time, I have removed the pre-2005 What's New items.
---
Ordered some of the "twisty" puzzles I was missing...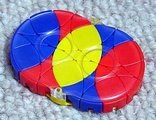 Found another item on my wish list...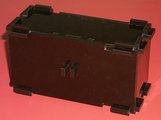 This is the Black Box designed by W.L. van der Poel. Peter Knoppers has some info on his site. It is discussed in CFF, issue 25, part 3, December 1990, pp 4-7. Auction wins...

several blank cubes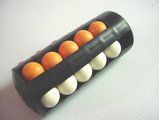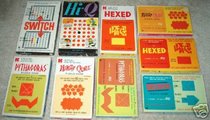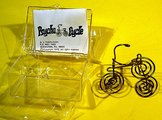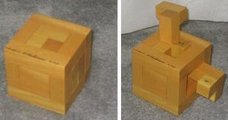 ---
A pair of tangled anime figures:



A Rubik's Sphere:


---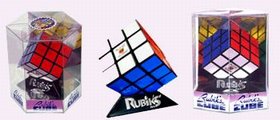 ---

Kelvin Palmer was cruel enough to send me another product of his father's devious mind - a green "Gradual Despair" puzzle. It comprises only 15 pieces but I remain stumped for now... I found a red Gradual Despair on auction:

I solved it, with a hint. But I think the red is easier than the green. It says there are 6 puzzles in the series - different colors and subjects.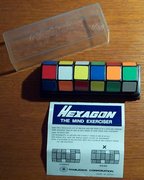 Here is a better pic of the Masudaya Hexagon Mind Exerciser. It has six hexagonal pieces which must be arranged according to rules like Instant Insanity. I solved it using the graphical technique. I got a Molecule puzzle from Joe Miller:

---
Pyrix and a Circus Puzzler: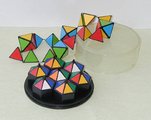 Pentera:



A pomotional Uncle's Puzzle - "Front Line Partnership" (FLP):
A set of three Dollar Tree puzzles (Hexagon, Fancy Square, and The Knot):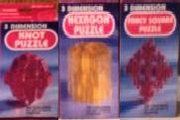 Tomy's Rack-Em-Up pocket edition:

Tenyo's #22 and #600:

A clear version of the 3M Hectix:
And I finally found a Cadaco Cluster Whimsies to complete my set: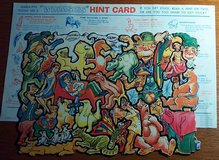 ---
I have obtained several old-time tanglement puzzles and a sliding-piece puzzle: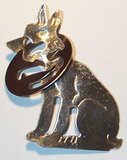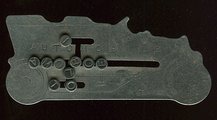 A Roundy: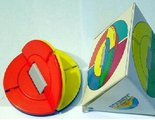 A REMCO Frustration Ball (dexterity puzzle):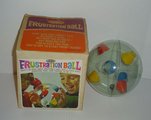 A group of Rubik's Cube-type puzzles (mainly for the Hexagon 6 piece):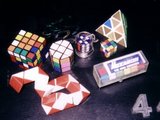 Jerry Slocum's new Tangram book:

A nut and bolt (the classic mechanism):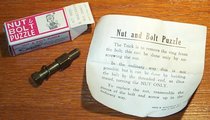 A 2-drawer trick box: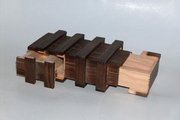 ---
January 29 2005 - The New York Puzzle Party
---
Tom Cutrofello hosted a puzzle party in New York city. There were about 30 attendees, with presentations on various topics throughout the day, puzzle swapping and buying/selling, and puzzle talk. I had a great time and got to meet several "puzzle celebrities." Kudos to Tom for organizing and pulling off a very pleasant event! Here is a link to some photos of the event, taken by my friend Brett and his father. I brought along a selection of duplicates and other items for show and trade, and was able to pick up some fun additions to my collection: From Jurg and Karin von Kaenel: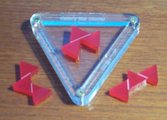 [see IPP 24 entries]

Karin's Outline Burr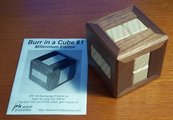 Burr in a Cube From Rick Eason: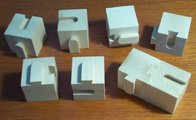 Myopic Doves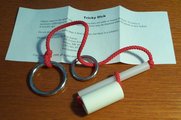 Tricky Dick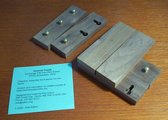 Keyhole From Norman Sandfield:

[Jaap's Enigma page]

[Thomas-ball official site]
[Jaap's page]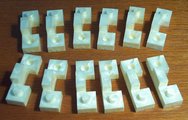 [John Rausch's Frantix page]

From Henry Strout:

From Saul Bobroff: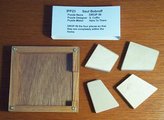 ---
January 2005 - Happy New Year!
---
I received new Dogics from Meffert's! They're offering several types of coloring. I got a type I and II.


---
I finally found a Screw Loose. I had one of these as a kid.

Other auction wins: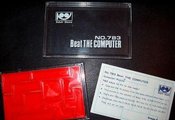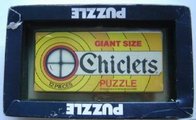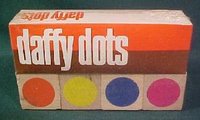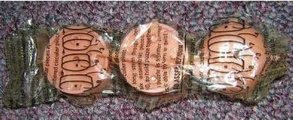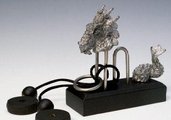 ---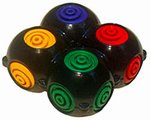 Ordered a Cmetrick Too from eLogIQ. One went for over $35 in auction, but they're $22 with shipping from the manufacturer's site.
---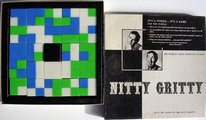 ---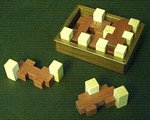 I received a "Double Cross" (without the tray) from William Waite (Nemmelgeb Murr). I think I actually prefer it without the tray - the pieces mate tightly and seem like they would be difficult to manipulate if they were in a tray.
---